Miami, United States - The front cover of Totalprestige Magazine, a print and digital magazine designed especially for business people, features Sir Gary Kong, Founder of The Global Hero Foundation USA. Coming first from China to Guatemala at the age of 16 with no money to his name, Sir Gary Kong then made his way over to the United States of America where he realized the American dream using his innate talents and business acumen to seize on relevant business opportunities, scout out new trends, and create success seemingly out of thin air.
In this issue, featured Inspiring Professional is Amariah Olson, co-Founder of Yield Crowd, an online portal for global investors to buy into a diversified U.S. real estate fund using blockchain technology. Yield Crowd has issued 50 million dollars of YIELD tokens on the blockchain, and those will be backed by properties in multiple states across the U.S.
Previous issue of Totalprestige Magazine featured strategy and leadership coach, Dr. Apollo Emeka, on cover. Dr. Apollo Emeka's life is dedicated to the art and science of self improvement in all its forms. Whether looking to accelerate personal or business growth, Dr. Apollo Emeka's proven strategies not only catapulted him to entrepreneurial success but also empowered his clients to seek greater value and grow the pie so they can gain a large share of it. His work in the special forces and FBI helped him prepare for a career in consulting.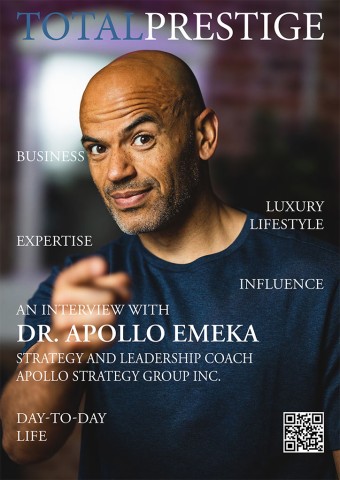 To read all of the above, and much more, please visit Totalprestige Magazine 
About Totalprestige Magazine 
Totalprestige Magazine is the official magazine of Totalprestige℠. The Totalprestige Magazine website was launched in 2006 to be a platform for its members upon which they could get to know and become familiar with one another. As the official magazine of Totalprestige℠, Totalprestige Magazine is a subscriber-based magazine that mainly features members and their related businesses. The print version of the magazine was first published in May 2010. 
Media Contact
Company Name: RMP Media Group LLC
Contact Person: Marc Ziegler
Email: Send Email
Country: United States
Website: https://www.totalprestigemagazine.com