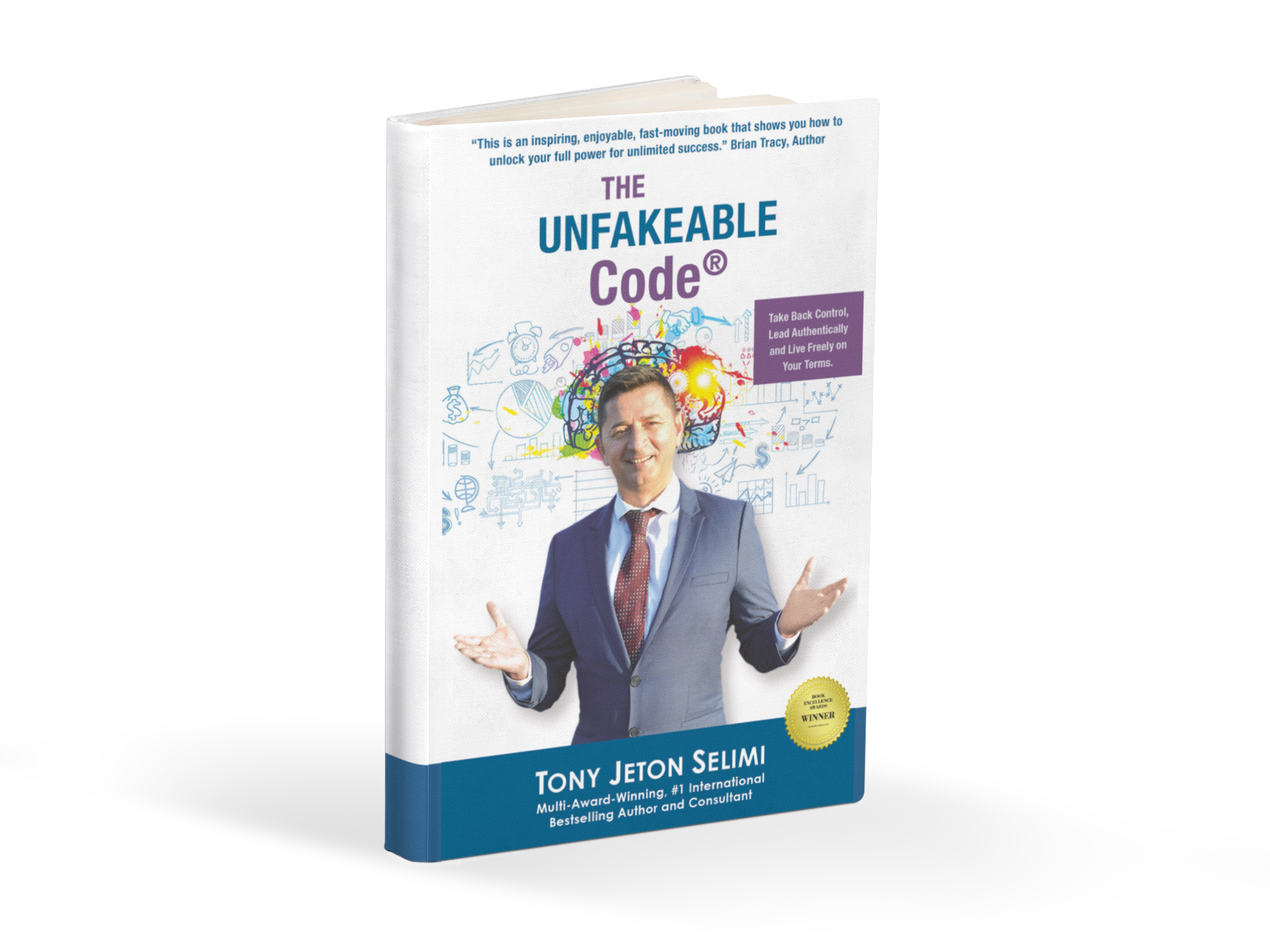 The Unfakeable Code® is recognized for its outstanding writing, design and overall market appeal out of thousands of books submitted.
The Unfakeable Code® by Tony Jeton Selimi offers a powerful framework to help readers reinvent their life and become the master of their own destinies. Tapping into the secrets and science behind authentic living, leading and loving, The Unfakeable Code® offers a robust five-step methodology for business, personal and professional transformation.
The Unfakeable Code® was named a Winner in the Personal Growth and category of the 2022 Book Excellence Awards. Dedicated to recognizing both independent and traditionally published authors, previous Winners and Finalists have been New York Times' best-sellers, spoken at the United Nations and TEDx, and have had their books optioned by movie studios.
"I feel humbled and honored to have received this prestigious award, not once but twice…being a Book Excellence Award Winner has helped me increase my authority…my book sales have gone up, and I have been featured on numerous TV and radio shows and podcasts," says author, Tony Jeton Selimi. As a teenager, Selimi experienced homelessness and was a victim of civil war. He survived and thrived against all odds, becoming a self-made millionaire with a goal of impacting a billion people around the world through his work. A true visionary leader, Tony shares over 40 years of research, studies and inspiring personal testimony to help readers live freely and achieve success. "My aim is to inspire readers to change their lives quickly, effectively, and promptly." The book assists readers in harmonizing body-mind-heart intelligence to deal with any form of anxiety, conflict, or stress, and wilfully create an inspired destiny.
The book has been endorsed by some of the most well-renowned experts from around the world. Brian Tracy, Author, Chairman and CEO of Brian Tracy International, wrote, "This is an inspiring, enjoyable, fast-moving book that shows you how to unlock your full power for unlimited success." Marie Diamond, a Global Transformational Teacher featured in The Secret writes, "[The Unfakeable Code®]...gives you valuable insights into the science of healing and changing your mindset that will transform your existence."
Readers who would like to connect with Tony are invited to purchase a signed copy of The Unfakeable Code® from his website at tonyselimi.com. For a limited time, readers can also download a copy of The Unfakeable Code® audiobook at 50% OFF using code: JKBNB22H code on https://tonyselimi.com/product/the-unfakeable-code-audiobook/
About the Author
Born in 1969 in Gostivar, Macedonia, Tony Jeton Selimi went from living homeless and penniless to becoming an internationally recognised TEDx speaker, award-winning author of best-selling books including: A Path to Wisdom, #Loneliness, Fit for Purpose Leadership #3, The Unfakeable Code®, Novum #10, and his upcoming book, A Path to Excellence.
Tony is a business coach and life strategist specializing in human behavior, wealth building, and leadership excellence. Entrepreneurs, CEOs, global leaders, Hollywood A list celebrities, and people from all professions consult with him to get unstuck, unleash their magnificence, excel in all critical areas of life, and live fulfilled, authentically and freely on their terms. Organizations seek his expertise to boost productivity, performance, profits and overall employee wellbeing.
A multi-talented creator, Tony created Into Your Divinity, co-created the multi-award-winning documentary Living My Illusion, and pioneered several trademarked methodologies in human development to help other people reach their aspirations and dreams. For his work, Tony has received the London SME Most Visionary Entrepreneur Award and been featured on SKY, ABC, NBC, CBS and FOX reaching over 100 million people.
Tony is available for interviews, private consultations, speaking engagements, training, book signings, film extras and other bookings. To connect with Tony, please reach out to Alma Stasel, Media Relations at TJS Cognition by email, info@tonyselimi.com, or phone, +442078285005.
Connect with Tony Jeton Selimi:
Website: https://tonyselimi.com
Facebook: https://www.facebook.com/tonyjselimipublic/
Twitter: https://twitter.com/TonyJSelimi
LinkedIn: https://www.linkedin.com/in/tonyjselimi/
Instagram: https://www.instagram.com/tonyjselimi/
YouTube: https://www.youtube.com/c/TonyJetonSelimi
Soundcloud: https://soundcloud.com/tonyjselimi
Media Contact
Company Name: Author News Network
Contact Person: Media Relations
Email: Send Email
Country: United States
Website: authornewsnetwork.com