Will Inflation Become a Bigger Picture Concern?
October 13, 2021 at 13:26 PM EDT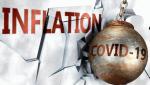 Inflationary concerns continue to affect markets, with consumer prices rising a bit more than expected in September, according to data from the Labor Department reported Wednesday. Although food and energy price gains counteracted declines in used cars, the consumer price index for all items...