Will Biotech ETFs Benefit from Biogen's New Alzheimer's Drug?
June 09, 2021 at 09:00 AM EDT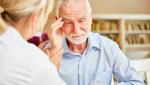 Biotech investors may have reason to celebrate this week, as the FDA approved Biogen's Alzheimer's disease drug Aducanumab on Monday, ushering in the first medication to be allowed by U.S. regulators to help the mental deterioration seen in people living with Alzheimer's. The drug is also the first...