Brother, Can You Spare a Dime?
April 05, 2021 at 12:00 PM EDT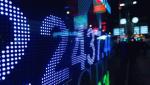 By Scott Welch, CIMA ®, Chief Investment Officer – Model Portfolios Once I built a tower up to the sun Brick and rivet and lime Once I built a tower, now it's done Brother, can you spare a dime? Say, don't you remember, they called me Al It was Al all the time Why don't [...] The post Brother, Can...