A deeper and broader sound field with spatial cues for a true-to-life concert experience.
(PRUnderground) December 14th, 2020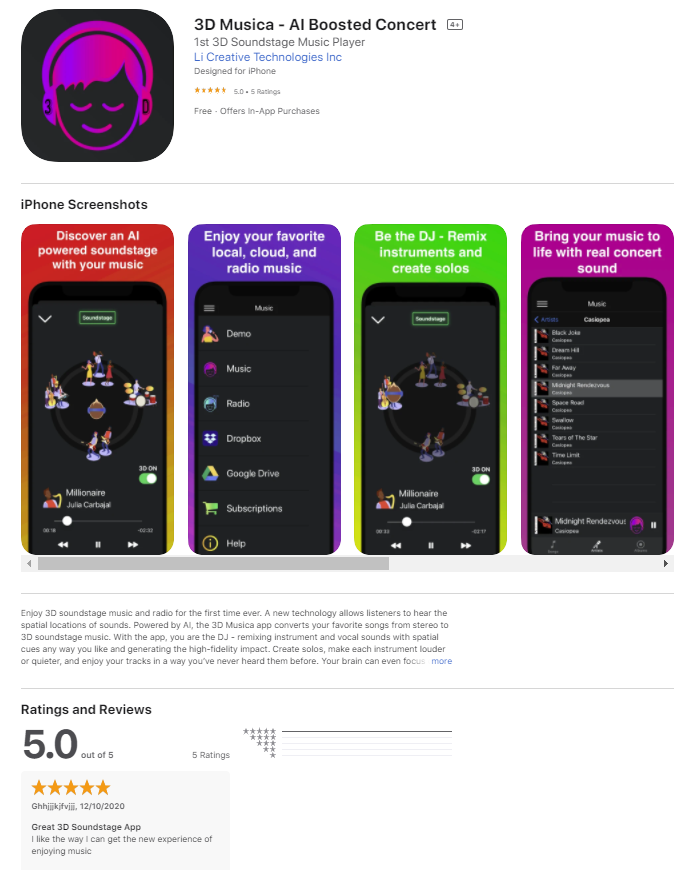 Li Creative Technologies, Inc. (LCT), a New Jersey tech and research lab, launched a new music app, 3D Musica, on the App Store for free download during this holiday season.  The app intends to revolutionize how we listen to and interact with music.
Billions of people listen to music worldwide – but most of us can only hear stereo sound, a technology invented in 1881. Stereo sound is different than real stage sound because the spatial information of individual instruments and vocals are missing. Now, there is a breakthrough.
Powered by AI, for the first time ever, the 3D Musica app brings users real soundstage music – listeners can feel the sounds of different instruments and performers around them from isolated locations, thus the music feels like a real concert with true-to-life sound quality.  Furthermore, as listeners move around virtually, they become the DJ, remixing instrument and vocal sounds in any way they like and generating a musical experience like no other.
"The app is based on our ten years of research on the human auditory system, virtual reality, and AI technologies. We reconstruct the 3D sound field with spatial information, so the sound is deeper, broader, and with a stronger impact than stereo, like you are on a real stage. Listeners can pay attention and track to individual sounds from their spatial locations. We make the AI work with human intelligence so you may experience amazing sound," said Dr. Q. Peter Li, President of LCT. "Our app also provides a unique way to interact with your music. Listeners can be their own DJ and use the GUI like they're playing a game. No equalizer or surround sound player can provide configurable and spatial sound. It is time to change to 3D soundstage music."
Here's how it works. Listeners select music from their local, cloud, or radio music library.  On the interface, listeners can virtually walk around on a concert stage to hear remixed music tracks in real time. The closer to an instrument, the louder the sound. When you virtually move onto an instrument or vocal location, you will hear the instrument solo sound. Listeners don't need to do anything to their music files; the app takes care of everything on the fly. Also, there's no special hardware required – you can use your favorite earbuds and headphones to listen to the amazing 3D soundstage music.
LCT has been creating breakthrough technologies for the US government, enterprise, and the consumer electronics industry for almost two decades. The company holds several patents related to the app. The 3D soundstage technology has the potential to change the music and entertainment industry.
The 3D Musica app is available for free download on the iOS App Store. A free soundstage music video is available at www.3dmusica.com, for people to experience the new technology.
About Li Creative Technologies, Inc.
The post 3D Musica - An AI-Powered App Converts Stereo to Incredible 3D Soundstage Music first appeared on PRUnderground.
Press Contact
Name: Peter Li

Phone: 973-822-0048

Email: Contact Us

Website: https://www.3dmusica.com
Original Press Release.