Is the Downward Pressure on Gold Over?
October 21, 2020 at 23:07 PM EDT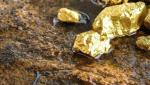 Just when it seemed the U.S. dollar might make a comeback, gold has been back on a steady climb once again. But is the downward pressure over? The Covid-19 pandemic is still the wildcard, and stimulus talks will continue to feed into gold prices in the next week or so. "Support comes from a...