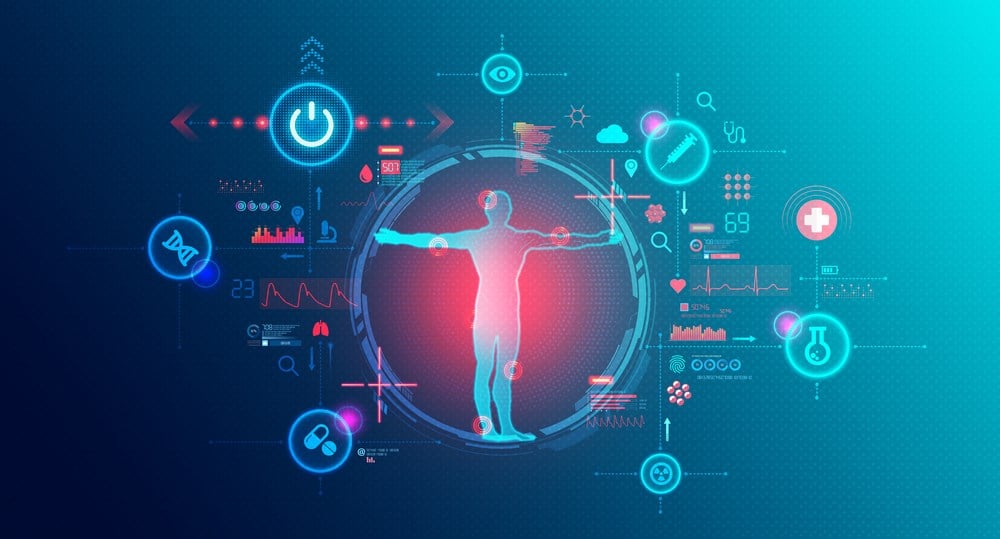 DarioHealth Co. (NASDAQ: DRIO) is an AI-powered digital therapeutics platform and provider that adaptively personalizes monitoring and treatments for chronic diseases. The mobile app manages five common comorbidity conditions, including diabetes, weight loss, hypertension, musculoskeletal and behavioral health, across six domains: timing, tone, channel, content, frequency and intervention. It utilizes AI to help people with chronic conditions manage their health.
It monitors a user's condition with sensors and provides recommendations, information, and provider engagement. The app was designed to handle chronic disease management in between doctor visits. The company has nearly $67 million in contract value as it pursues B2B with employers over earlier direct-to-consumer (DTC) models. B2B now accounts for 70% of total revenues.
Strategic Partnerships
The company expanded strategic relationships with American Well Co.'s telemedicine platform (NASDAQ: AMWL) and the first account through national pharmacy benefits manager Sanofi. Sanofi of Dario data showed a statistically significant reduction in all-cause healthcare resource utilization, which included a (23.5%) reduction in hospitalizations.
It will be offering its cardiometabolic solution will be integrated into the Amwell platform, reaching an installed base of 90 million people and 2,000 health plans. This could result in highs tens of millions in future revenues. It expects to see results near year's end. Amwell joins the strategic partners' list, including Sanofi US Services Inc., CVS Health Co. (NYSE: CVS), Virgin Pulse Inc., Solera Health Inc. and Alliant Insurance Services.
DexCom Partnership
The company partnered with DexCom Inc. (NASDAQ: DXCM) to integrate its continuous glucose monitoring (GCM) technology in the DarioHealth multi-chronic condition platform. This enables users to collect blood sugar readings into the app. The company also closed a new contract with a national pharmacy benefits manager (PBM) to provide its employer clients with the DarioHealth platform, starting with its diabetes solution in Q2 2023.
Accelerating
On May 11, 2023, DarioHealth released its fiscal first-quarter 2023 results for the quarter ending March 2023. The company reported an adjusted earnings-per-share (EPS) loss of (-$0.45), excluding non-recurring items, versus consensus analyst estimates for a loss of ($0.50), beating estimates by $0.05. Revenues fell (12.3%) year-over-year (YOY) to $7.07 million, beating analyst estimates by $361K.
Gross profit margin improved 44.8%, Non-GAAP gross profit margin was 60.1% of revenues. The cash balance was $38.8 million. DarioHealth expects to bump gross margins up to 70% in 2024. Most contracts are multi-conditioned, generating more revenues than a single condition.
CEO Insights
DarioHealth CEO Erez Raphael commented, "Business-to-Business (B2B) revenues continued to increase, representing approximately 70% of our total revenue during the first quarter, up from 56% in the first quarter of 2022. The increase in B2B share of total revenue reflects what we believe are growing trends in the market favoring Dario's single, integrated, multi-condition digital health platform." Dario retains nearly 80% of the people who try the platform for a year.
It runs the engagement data through its AI engine to better personalize user experiences in a predictive manner. An individual's disease state changes and differs from others. The platform can adjust to how its user's health priorities may change with their surroundings and activities.
DarioHealth analyst ratings and price targets are on MarketBeat.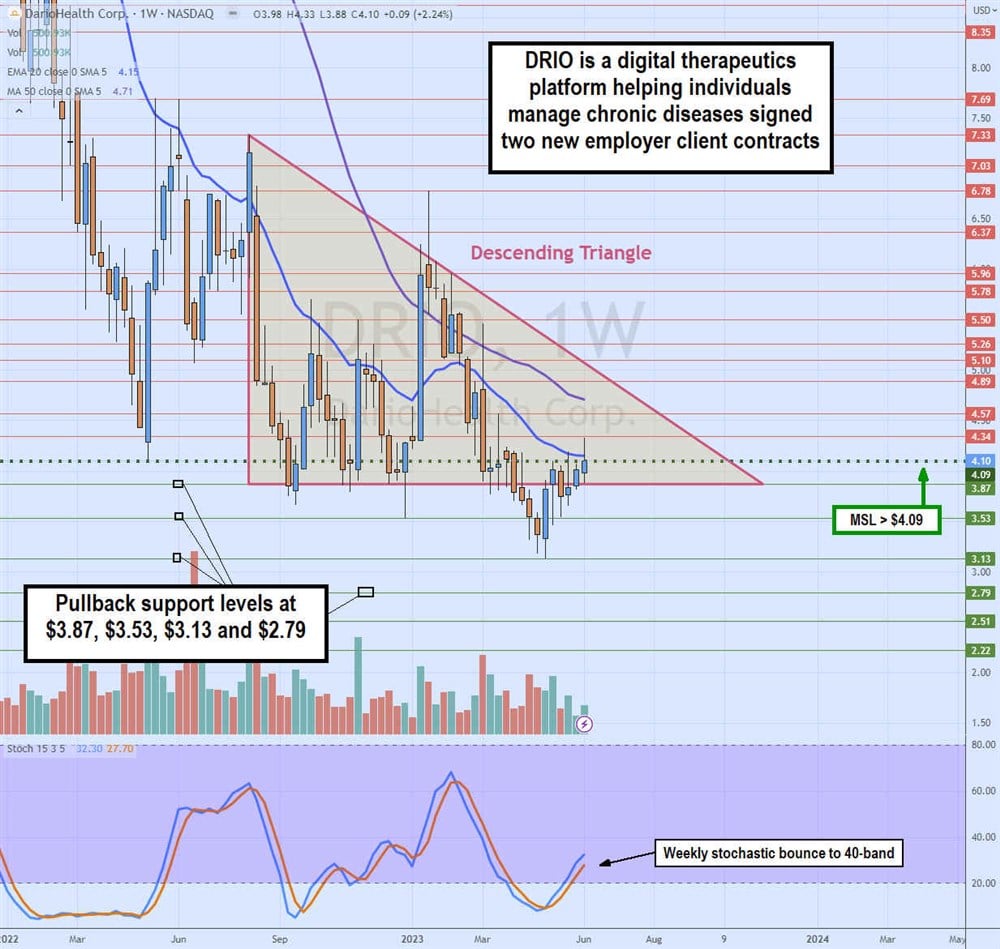 Weekly Descending Triangle
The weekly candlestick chart on DRIO shows it's trying to recover from a descending triangle breakdown. The weekly descending triangle commenced after topping at $7.33 in August 2022. Shares collapsed to the flat-bottom trendline area of around $3.87 in September 2022. DRIO was choppy as it slingshot back up through the descending trendline peaking at $6.87 in January 2023 before breaking down through the flat-bottom trendline of the triangle at $3.87 in April 2023. Shares fell to a new swing low of $3.13 in May 2023 before triggering a weekly market structure (MSL) low breakout attempt at the $4.09 trigger. Pullback support levels are at $3.87, $3.53, $3.13 and $2.79. Pullback support levels are $12.36, $11.39 weekly MSL trigger, $10.90 and $10.20.