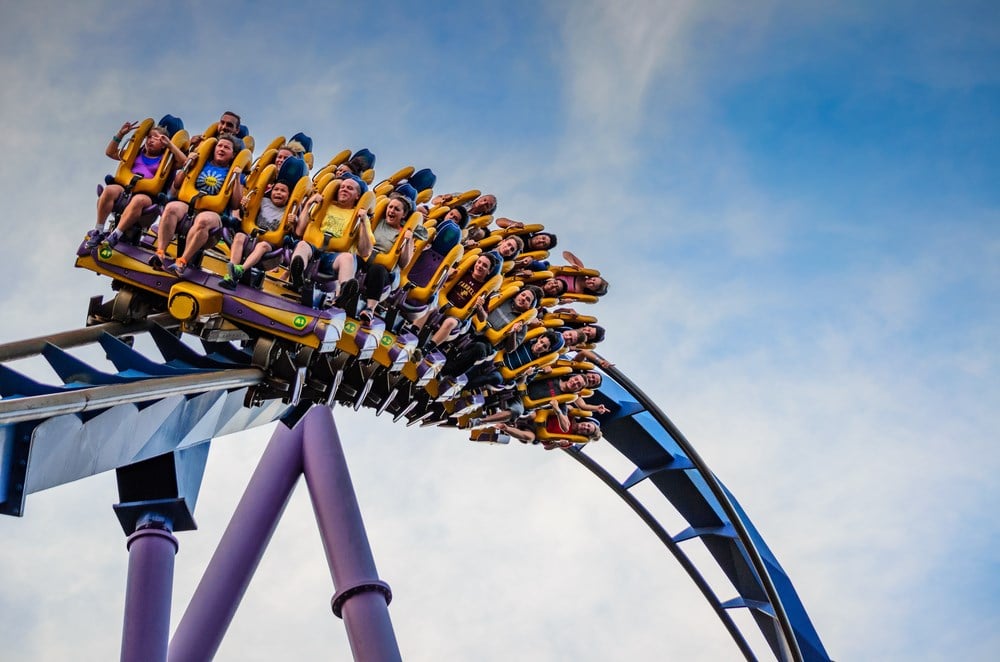 Six Flags Entertainment Corporation (NYSE: SIX) reported its first-quarter 2023 earnings results. Shares are rising by as much as 21.3% in a massive rally, representing the most significant opportunity for shareholders since the post-pandemic rally. While Six Flags reported a deepening net loss for the first quarter, some key performance indicators (KPIs) speak to the management's recovery strategy, along with a catalyst that may unlock massive value and change Six Flags stock value.
Six Flags analyst ratings see a 10% upside from today's prices as consensus. However, the topside price target of $47 per share and above could be a more realistic scenario. Most analysts and investors see Six Flags as a mere theme park operator, forgetting the massive underlying value of real estate holdings. The Six Flags chart shows the stock is trading at a 63% discount to its all-time high price of $73.38 in 2018, the value of the underlying real estate could be the key to unlocking a monster rally.
Key Performance Indicators: Expediting a Rally
Six Flags' financials will reflect a 3% revenue increase for the first quarter of 2023 on an annual basis. The revenue expansion came despite severe weather conditions, adversely affecting attendance numbers in its California and Texas locations. Regarding management's ability to adapt to these adverse conditions, pricing and marketing strategies offset the lower attendance by increasing guest spending per capita. A $4.53 increase in admissions spending per capita resulted from long-term, 12-month memberships. An additional 89-cent increase in per capita spending came from in-park spending, a formidable feat considering the growing inflation concerns in the U.S.
The company points out that the first quarter of 2023 was a record revenue result, with $142 million collected. Investors and markets saw an accompanying second-highest first-quarter adjusted EBITDA. In the fourth quarter of 2022, Six Flags reported the beginning stages of what could become a turnaround stock. Fourth quarter 2022 attendance came in at 4.1 million attendees, a 30% decline year-on-year. The first quarter of 2023 saw an additional reduction in attendance. 
Attendee reduction in 2022 resulted from eliminating ticket promotions and other adverse price dynamics. These effects were comprehensively amended for the following quarter. First quarter 2023 attendance of only 1.6 million came not from price strategy effects but rather from adverse weather conditions. The total guest spending per capita in the fourth quarter of 2022 totaled $65.15, while the first quarter of 2023 spending per capita totaled $80.88. A 24% increase in total per capita spending, despite a 60% reduction in attendance, may have set the foundation for underlying shifts in valuation.
Unlocking Value
Investors got a glimpse of corporate finance magic when in December 2022, Land & Buildings LLC proposed a sale of Six Flags Real Estate holdings. The value thesis seems robust for unlocking significant shareholder value, with analyst presentations stating that Six Flags shareholders could double their holdings through this sale. Land & Buildings thesis in December came from seeing a massive gap between park attendance and spending per capita. This gap would soon be closed, as investors saw today. 
As a function of attendance, spending per capita can act as a proxy for valuing the underlying real estate these parks operate in. As a specific property would be valued under a capitalization rate (cap rate), computed as NOI (net operating income) divided by property value, Six Flags real estate can be valued under these same principles. Buyers like VICI Properties (NYSE: VICI) could acquire the portfolio at proper valuations.
Marriott International (NASDAQ: MAR) followed a similar strategy and MGM Resorts (NYSE: MGM) also did in the 1990s and 2016, respectively. Shares of MGM rose by as much as 128% in 2016 to 2018, following the creation of MGM Growth Properties (NYSE: MGP), a similar REIT sale to its underlying real estate holdings. SIX stock could see a continued rally based on comparable transactions and the underlying value of Six Flags real estate.