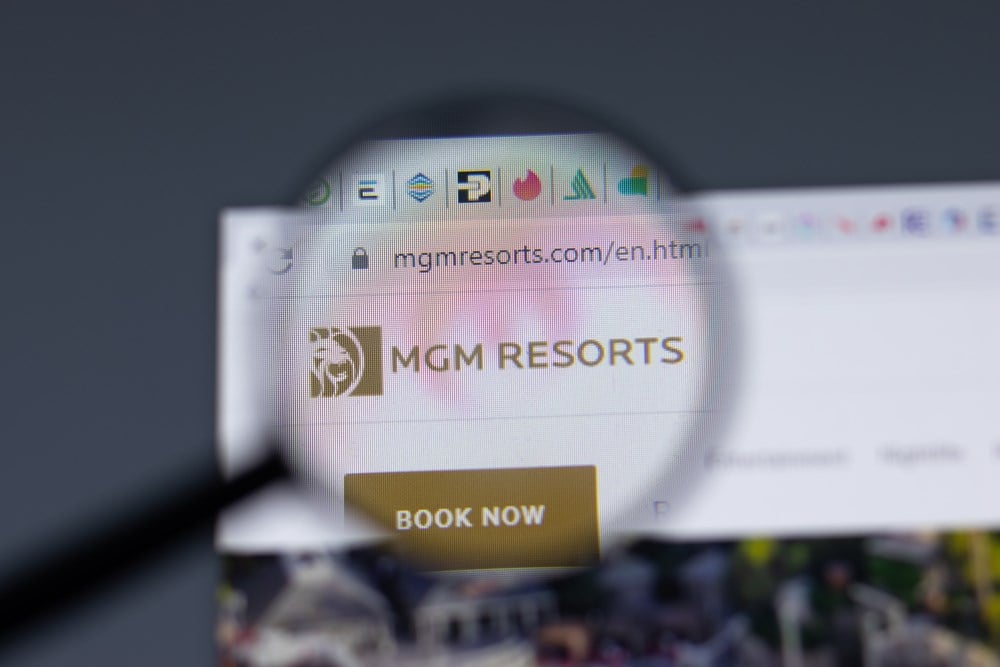 The Chinese have a saying concerning the reality of the haves and have-nots and how they should deal with their finances. Those who have riches or inherit them can afford to speculate with small sums of money, while those who do not have wealth and are part of the middle class have to speculate with large sums of money to get rich. This could not be further from the truth in MGM Resorts International's (NYSE: MGM) first-quarter 2023 earnings results on Monday.
While the majority of revenues for MGM come from its Las Vegas, Nevada operations, the bulk of growth seen in the twelve months came from its Macau, China location. Las Vegas delivered annual 31% revenue growth for $2.2 billion, while Macau reported a total of $618 million of revenue, rising by a tremendous 84% from a year prior. 
The Takeaway Chips
Overall revenue for MGM Resorts grew by 36% year-on-year for the first quarter of 2023; what this all meant, apart from signs of a recovering economy and rising levels of disposable income, is that investors got to keep more of this income. Net income in 2022 reported a total loss of $229 million, while 2023 reported a net gain of $335.3 million, performing at a 9% margin. Historically speaking, MGM still has a push left, considering that net income margins have hovered inside the 13-16% range, so the bull cycle may not be over for the stock price yet.
Management is focused not on exploiting existing operations but improving them via room remodels at Bellagio and convention center improvements aiming at elevated customer experiences. According to the earnings presentation, management has also reported a successful development approval for a new location in Osaka, Japan, which was government-certified by April 14, 2023. It is expected to be operational by 2029/2030.
Additionally, the typical business model adopted by the gambling industry, casinos, and hotels, is being disrupted by online and digital gambling. MGM is aware of this pivoting force and has also started its own platform; BetMGM is the American giant's proprietary gaming and betting platform expected to be EBITDA positive by the second half of 2023. BetMGM, despite being the newer segment for MGM, carries over the brand reputation and adoption by consumers, as reflected in its $476 million in revenues for the first quarter of 2023.
Connecting the Dots, Investor Spotlight
In the United States, the savings rate has increased to a current 5.1% from its bottom in June 2022 of 2.7%. A near doubling of the savings rate may translate into consumers feeling more comfortable spending - or gambling - more of their income as there is now a safety net to hold them in case the house wins. Cross-referencing the savings rate in the U.S. with MGM financials, it becomes evident that revenues tend to rise and fall alongside this rate, which could be explained by the psychological effects of saving levels and the tendency to gamble or seek leisure activities.
MGM analyst ratings may take notice of this macro trend connection, and expecting a slowdown in credit markets and other risks of a mild recession pushing the savings rate upward, have come together to assign a 23% upside target from today's prices. Moreover, credibility for these targets may be sustained once investors realize that management has repurchased nearly 65 million shares from the open market throughout 2022, implying that the stock may have been cheap back then as it is now.
MGM stock is trading on an 8.5x price-to-earnings multiple, considering the last-twelve-months of earnings. Historically the stock has traded in multiples upwards of 18-20x, thus severely undervaluing today's business fundamentals and further upside potential that could be realized as macroeconomic conditions, along with China's reopening transition, play their hand. As with net income margins showing enough ceiling room to push toward normalized levels, returns metrics in MGM show a similar gap. 
ROIC (Return On Invested Capital) stood at 5% for the first quarter of 2023; this profitability metric reached a ceiling of 6.7% in pre-pandemic conditions during 2019. Consequently, the United States savings rate also rose to nearly 10% to double today's 5.1% rate, giving investors and analysts some toggling room when modeling projections and correlations between profitability and the savings rate, ultimately driving consumer spending psychology.