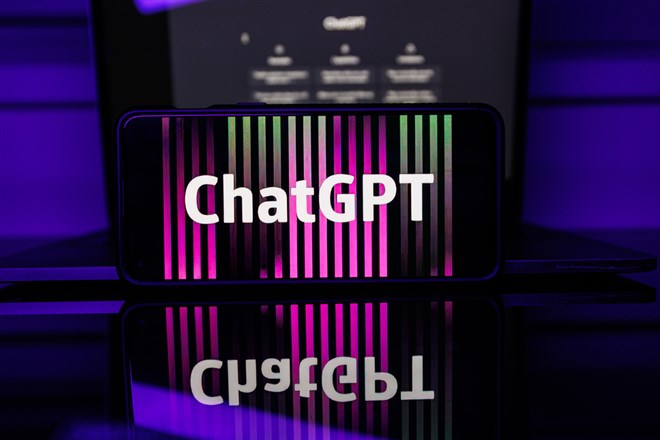 As ChatGPT continues to make big headlines surpassing over 100 million users in just over two months, investors are desperately piling into any stocks that are artificial intelligence (A.I.) related. Some of the notable movers have been enterprise A.I. platform C3.ai Inc. (NASDAQ: A.I.), robotic and business process automation A.I. platform UiPath Inc. (NASDAQ; PATH), AI-powered search platform Yext Inc. (NASDAQ: YEXT), and AI-powered loan underwriter Upstart Holdings Inc. (NASDAQ: UPST) and A.I. chip maker NVIDIA Co. (Nasdaq: NVDA).
You need more than luck for anyone seeking to get a direct investment into OpenAI, the creator of ChatGPT. However, the next best thing is taking shares of the company that has already invested and is integrating its capabilities into its applications with the most extensive user base in the world. This is the software behemoth Microsoft Co. (NYSE: MSFT). Additionally, Microsoft may be taking a 49% stake in OpenAI, the creator of ChatGPT.
Investment in OpenAI
According to Fortune Magazine, Microsoft has been negotiating terms for its additional $10 billion investment in OpenAI. A copy of the term sheet seen by a reporter stipulates Microsoft with take 75% of  OpenAI's profits until its $10 billion investment is recouped. Then it will revert to a 49% ownership stake in the company. The rest of the company is said to be owned by other investors and founders. This is to prevent Microsoft from interfering with any decisions made at the company.
Generative AI
ChatGPT is hitting home for many people because it's a generative A.I. breakthrough (GAI) breakthrough. This type of A.I. generates new content like text, images, sounds, and music from data it has been "trained" on. Unlike a search engine that pulls existing content, GAI creates new content.
GAI can be unsupervised, which means the platform can learn patterns and create content without being specifically told how to produce it. Users can add more input to generate more specific outcomes. GAI can use to create articles, blogs, songs, art, stories, and much more.
Monetizing and Integrating ChatGPT
OpenAI announced it would roll out a $20 per month ChatGPT Premium subscription, enabling priority access and quicker response times. It will be sending out invites to existing users shortly. With an estimated 100 million global users, one can only guess what revenue they will generate. While they quickly found a way to monetize ChatGPT, remember that it's been over a decade in the making.
OpenAI generates revenues by licensing its models under various pricing options with paid tiers for higher usage and features. Developers can obtain an API key to access OpenAI's models to build AI applications.
Microsoft is also integrating ChatGPT into its Teams Previous work collaboration app for $10 a month after the $7 introductory rate expires by June 2023. The premium service has new features like AI-generated intelligent recaps and notes, personalized timelines, over 40 real-time live language translations, virtual appointments, and more. It also plans to integrate the GPT-3.5 A.I. language model into its Bing search engine.
How's the Rest of the Business?
Microsoft released its fiscal second-quarter 2023 earnings report on Jan. 24, 2023. Non-GAAP earnings per share (EPS) came in at $2.32 versus $2.31 consensus analyst estimates, a $0.01 beat. Total revenues climbed 2% to $52.75 billion, falling short of analyst expectations of $53.17 billion.
The strong U.S. dollar hurt each segment. Its Productivity and Business Process segment saw a 7% YoY revenue rise to $17 billion. Microsoft Office Commercial sales rose 7% YoY. Its Consumer segment saw a (-2%) decrease compared to a 7% gain. It experienced execution challenges in its Surface laptop business.
Intelligent Cloud Strong
Its Intelligent Cloud business saw an 18% spike in revenues to $21.50 billion, falling in line with earlier guidance between $21.25 to $21.55 billion. Server products and cloud services revenues rose 20% YoY driven by its Azure revenue growth of 31%.
This still came lower than the 37% prior guidance. Its evidence that Azure's growth is on the decline. It was short of its 35% growth in the September quarter and 40% in the previous June quarter.
Personal Computing Weak
The Personal computing segment was the weak drag as revenues fell (-19%) YoY to $14.20 billion. This was way below the prior guidance of $14.50 to $14.90 billion. Windows OEM revenue collapsed (-39%) YoY, while Windows Commercial products fell (-3%) versus earlier projections of 8% growth.
Xbox contents and services revenues fell (-12%) versus (-3%) growth in the previous quarter. Search advertising revenues rose 10%YoY versus 16% in the prior quarter ending September 2022.
Weak Forward Guidance
Microsoft provided revenue guidance during its conference call. This caused shares to lose their gap and sell off in the postmarket. The company expects Productivity and Business Processes revenues to grow 11% to 13%, or $16.9 billion to $17.2 billion. Intelligent Cloud is expected to see 17% to 19% constant currency growth or $21.7 to $22 billion.
Personal Computing business is expected to be between $11.9 to $12.3 billion. Its guidance calls for revenues between $50.5 billion to $51.5 billion, falling short of the $52.69 billing consensus analyst estimates. The company is witnessing its customers being more cautious with purchases. Advertising spending fell more than expected, impacting its search, news advertising, and LinkedIn Marketing Solutions.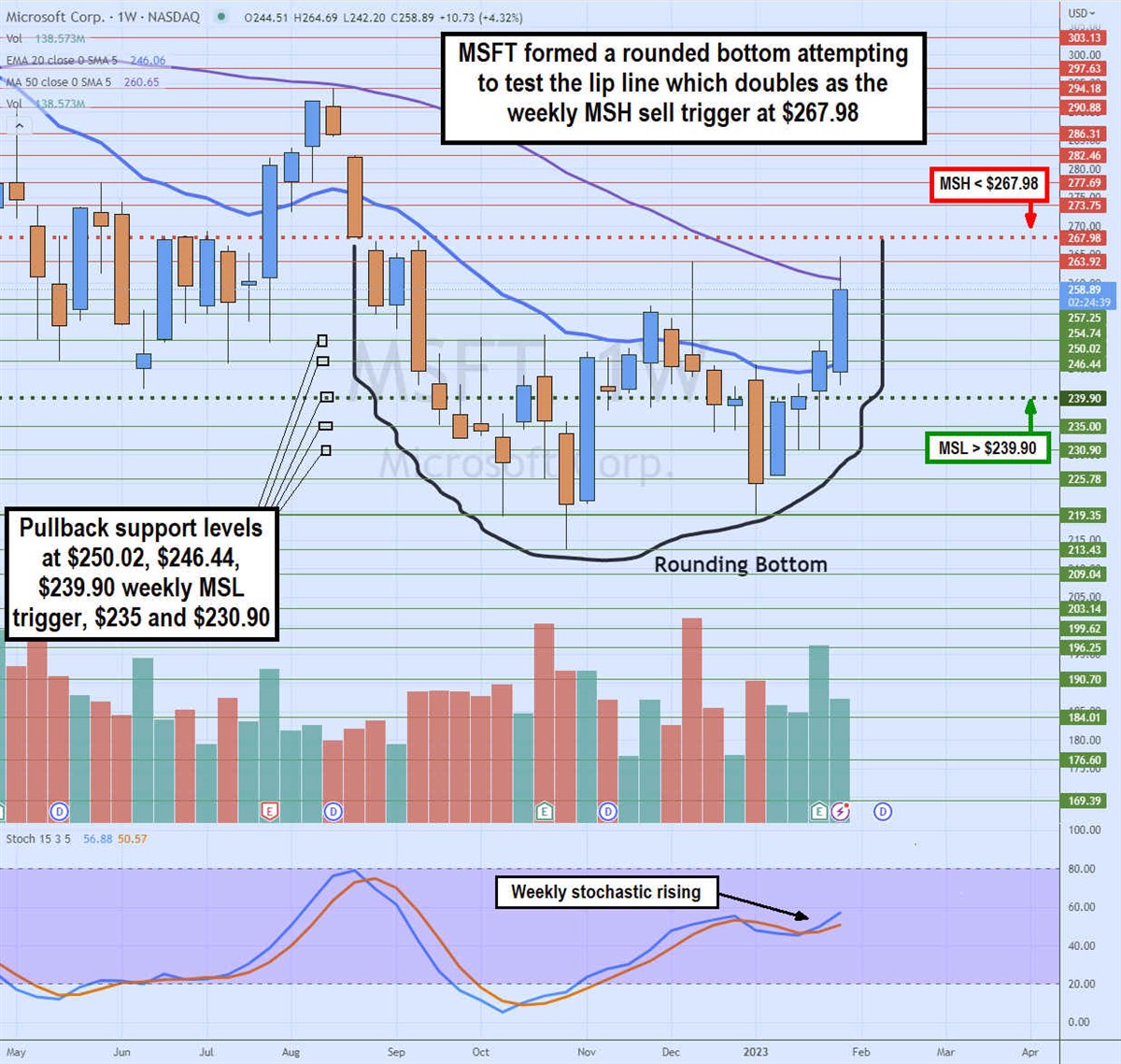 Weekly Rounding Bottom
The weekly candlestick chart on MSFT illustrates a rounding bottom as shares attempt to retest the lip line, doubling as the weekly market structure high (MSH) trigger at $267.98. Shares fell from the lip line in August 2022 to bottom out at $213.43 by October 2022.
Shares triggered the weekly market structure low (MSL) on the breakout above $239.90 as shares could shoot back up to $263.92 in December before sinking back to $219.35m, a double support level. MSFT triggered the weekly MSL again in January 2023, staging a four-week rise to retest the $263.92 towards the $267.98 lip line.
The weekly 20-period exponential moving average (EMA) support is curling up at $246.04, while the weekly 50-period M.A. resistance slows its descent at $260.64. Pullback support levels are $250.02, $246.44, $239.90 weekly MSL trigger, $235.00, and $230.90.