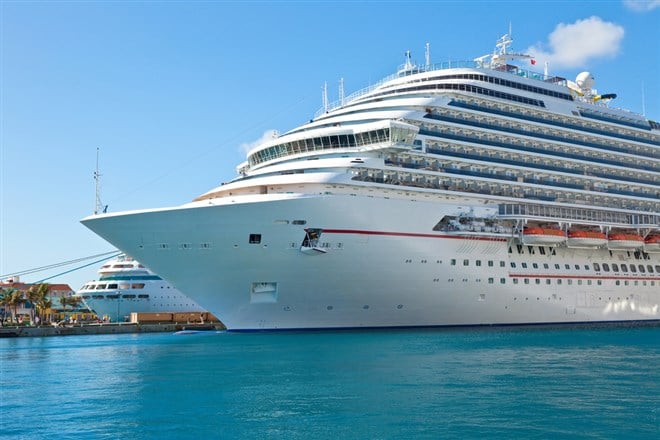 In many ways, cruise ship stocks acted as the canaries in the coal mine when the pandemic first struck, so it's perhaps apt that they're now among the best-performing stocks as we head into a fresh year of trading. The likes of Carnival Corp (NYSE: CCL) and Royal Caribbean Cruises Ltd (NYSE: RCL) are up 85%, respectively since the middle of October, while the S&P 500 index has to contend with a 15% rally in the meantime.
And despite much of this upward trend having been formed in the final months of last year, several voices on Wall Street calling for even more upside. 
Let's take a look at just how strong the bull's case is for both of these cruise stocks. 
Citi's Comments
One of the biggest calls for this further upside in cruise stocks came last week from the team at Citi. Analyst James Hardiman and his team are looking at them as compelling investments for the rest of the year, despite the strong start they've already registered. 
In a note to clients, he wrote that "we believe cruise stocks as a group have graduated from 'proxy trades' to compelling long-term investment narratives". They see Carnival having the biggest turnaround and most value opportunity, but picked Royal Caribbean as their top pick. 
Looking at how each of these stocks has performed in the past year, it's easy to see why. For a couple of days last October, Carnival shares traded below their pandemic lows and back to where they spent much of 1992. That's right, Bush Snr. was in the White House when Carnival stock last changed hands for the same price it was at at the start of last quarter.
Royal Caribbean, on the other hand, never came close to hitting its pandemic lows, which is indicative of a much stronger consumer demand and investor confidence. Still, they've both almost doubled in value since October. 
Interestingly, we're seeing such strength and optimism in two stocks that are so vulnerable to any volatility in consumer spending at a time when inflation is so high. But to this point, Haridman wrote last week that "unlike most of our coverage, the post-pandemic momentum of the cruise space outweighs potential macro headwinds in 2023, with budding Asian and European narratives building into 2024."
And this past Monday saw further strengthening of the industry's upside potential, particularly that of Royal Caribbean. The team over at Macquarie Research reiterated their Outperform rating on the stock in light of the company's Q4 numbers which were released last week.
That report saw a great update from Royal Caribbean management that the seven biggest booking weeks in the company's history occurred in the weeks since last November. While they still posted a loss, it was far less than analysts had expected, with revenue for the quarter jumping almost 170% year on year. 
Getting Involved
While it was Royal Caribbean-specific, management's broader update on the industry bodes well for investors eyeing the catch-up potential in Carnival as well. In their update last week, they said that "we are experiencing a record-breaking WAVE season, resulting in a booked position approaching previous record highs and at higher prices." We'll know from their earnings next month just how closely aligned Carnival is with Royal Caribbean's outlook, but it's fair to say that based on recent stock performance, investors see them being in lockstep. 
Its longer-term underperformance compared to Royal Caribbean's strength might be a cause for concern for any would be investors in Carnival, but that in itself also feeds into the additional potential upside of the latter. It was for this reason that the team at Hedgeye recently came out with a fresh long idea on Carnival shares, saying that the "sentiment is decidedly more negative based on a legacy overhang, short interest and fewer buy ratings," but they still have a long position. 
Either way, investors keen to get involved in what's likely to be one of 2023's top recovery rallies have two solid options.