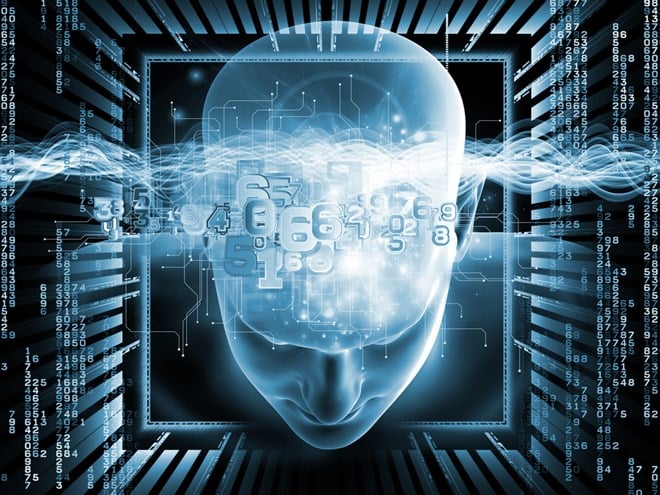 Artificial intelligence stocks are one of the hottest themes in the stock market right now, and for a good reason. Seeing the impressive power of ChatGPT, big tech firms are racing to develop the best AI chatbot. Microsoft has the first-mover advantage of implementing ChatGPT into its products. Still, Google and Baidu are racing to get their products to market.
AI can revolutionize the economy and eliminate several industries in the process. As such, investors are currently bidding up the stock of any company that could benefit from this innovation.
However, even though it's clear the hype behind AI is real, we have to measure our expectations. Just as the proliferation of the internet changed the world in the 1990s, in hindsight, we know investors abandoned disciplined investing principles and bought anything with a ".com" at the end of its name.
But market trends tend to surpass our wildest expectations. Blockchain, cannabis and 3D printing stocks are all examples from recent history.
So we're reviewing three pure-play AI stocks that are at the heart of the AI stock rally: C3.ai (AI), SoundHound AI (SOUN), and BigBear.ai (BBAI).
C3.ai
C3.ai (NYSE: AI) is the biggest AI pure play listed on a US exchange. The company helps businesses solve complex problems using AI in supply chain management, customer service, energy management, and several others. 
For instance, a grocery store chain might use C3.ai's supply chain management applications to help it manage its inventory by analyzing sales trends, seasonality, and weather to accurately forecast how much of each item to stock. Similarly, a bank might use C3.ai's financial monitoring tools to spot suspicious financial transactions invisible to the naked eye.
However, the market is clamoring for the firm's recent launch of the C3 Generative AI Product Suite. In layman's terms, the Suite uses AI models like GPT-3 and Google Bard. It integrates them into a company's computer system rather than just functioning as a chatbot or assistant.
The stock is up 20% since announcing the launch on January 31 and up 85% year-to-date, currently sitting around $21 per share and easily sailing through the average analyst price target of $16.80.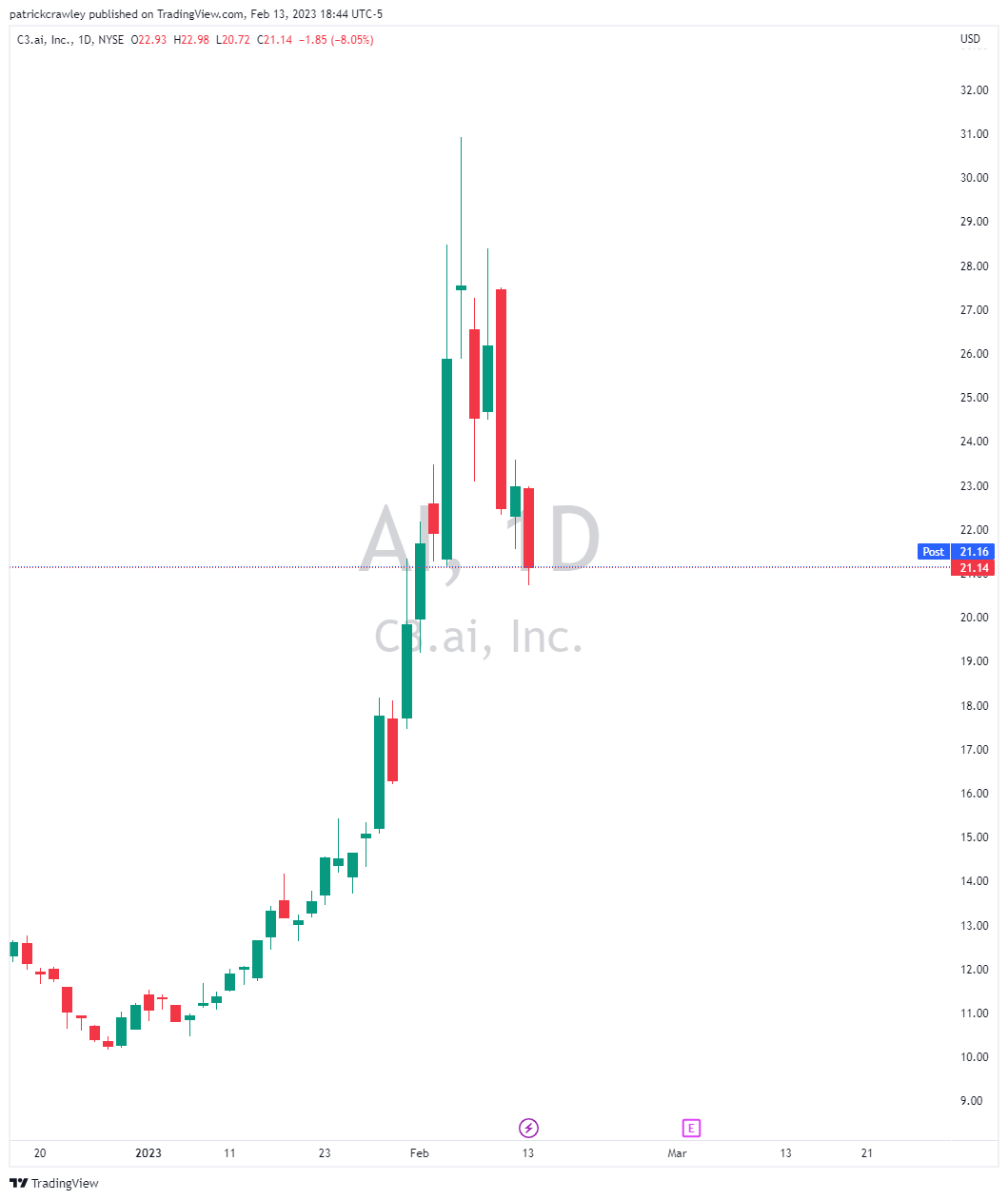 Wall Street firm DA Davidson, who has a Buy rating and $30 price target on the stock, recently called C3.ai a "truly scarce asset" and "killer app" for AI.
Early March is a huge month for C3.ai, as the company reports earnings on Tuesday, March 2, and unveils its C3 Generative AI Product Suite at the C3 Transform conference on Tuesday, March 7.
With C3.ai being the leader among the AI pure plays, a bullish market response to earnings and the product launch could further fuel the enthusiasm for AI stocks.
SoundHound AI (SOUN)
SoundHound AI (NASDAQ: SOUN) develops conversational AI technology. They aim to "turn sound into understanding and meaning" by enabling humans to interact with their technology as they speak to friends. To put it as simply as possible SoundHound is building Siri on steroids and implementing it in all technology. 
The company is currently a stronghold in the automotive industry, helping automakers integrate AI voice assistants into their vehicles. With SoundHound expecting that 90% of new cars will include voice assistants, their ongoing partnerships with Mercedes-Benz, Stellantis (STLA), and Hyundai should be a strong driver of growth.
Beyond the automotive business, it is now making a significant push into the customer service sector, rapidly emerging as one of the largest sources of demand for voice AI technology. The company just inked a big deal with customer engagement platform Airmeez to power their intelligent voice assistants.
The market clearly sees customer service as a legitimate avenue of growth, as SoundHound stock rallied over 100% since the deal's announcement.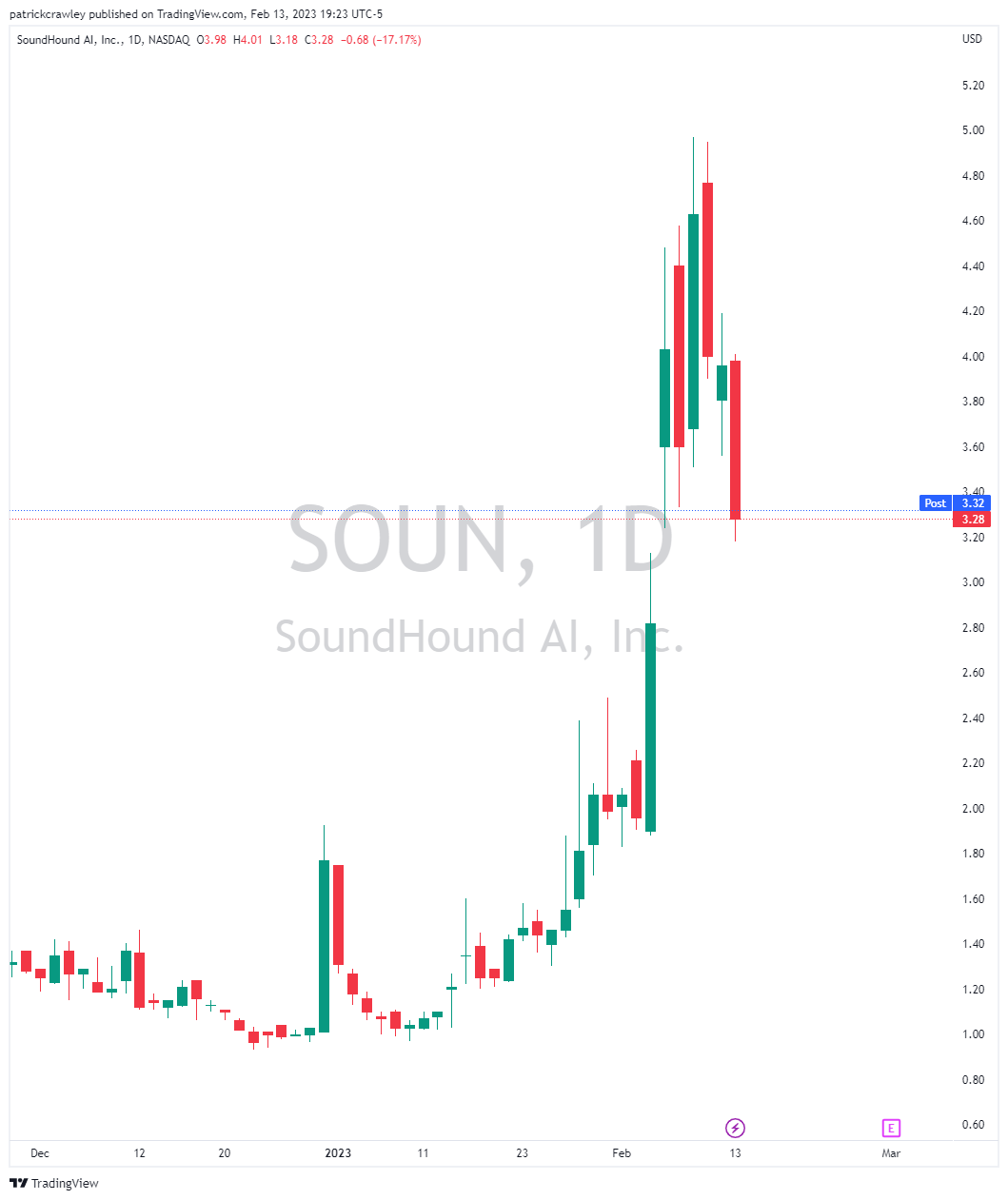 But it's not all rosy for SoundHound. The company has had its fair share of struggles since going public via SPAC into a tech bear market in April 2022 and is down roughly 80% from all-time highs. You might even say that the recent AI rally saved the company from obscurity. 
As such, the stock is not without its fair share of red flags, but there's potential for light at the end of the tunnel. The company recently issued positive guidance, projecting 50% revenue growth for 2023, which is the high end of its range. 
This, combined with their new disciplined financial approach and the gold rush for AI, can give the company the boost it needs to get out of its rut and yet again focus entirely on growth.
Looking ahead, the market's reaction to SoundHound's earnings report on Wednesday, March 1, should be very telling about the health of the AI investing theme.  
BigBear.ai (BBAI)
BigBear.ai (NYSE: BBAI) uses AI to help its clients make complex decisions. The company uses predictive analytics to synthesize complex data and identify patterns not evident to the naked eye. For instance, to intuitively explain what BigBear.ai does, their predictive analytics saved the US Army millions of dollars by optimizing the distribution of Army equipment. 
The company primarily serves the defense industry, counting The US Army, Defense Intelligence Agency, and US Air Force as their clients. However, they also serve companies with complex data problems, like logistics and shipping.
While BigBear.ai has exciting technology and could benefit from the AI rally, the company is currently in a precarious financial situation. Their short life in public markets is a series of setbacks, featuring several executive departures, layoffs, and missed revenue targets. 
However, their problem now is liquidity. Their cash balance plummeted from $68 million in Q4 2021 to a mere $22 million in Q3 2022. Furthermore, their 10-Q shows they only have access to $25 million in credit lines. Considering the company's $12 million operating loss in Q3 2022, they'll be forced to continue to dilute the equity, as they did in January.
However, much of the financial stress came when high-tech growth stocks were out of favor. Should the environment for AI stocks remain favorable, BigBear has a shot at turning things around.
While BigBear doesn't report earnings until later next month on Thursday, March 16, look for BigBear to move alongside the other AI stocks reporting in early March.
Oppenheimer currently has a Market Perform rating on the stock with a $10.00 price target, giving the stock 150% in the potential upside.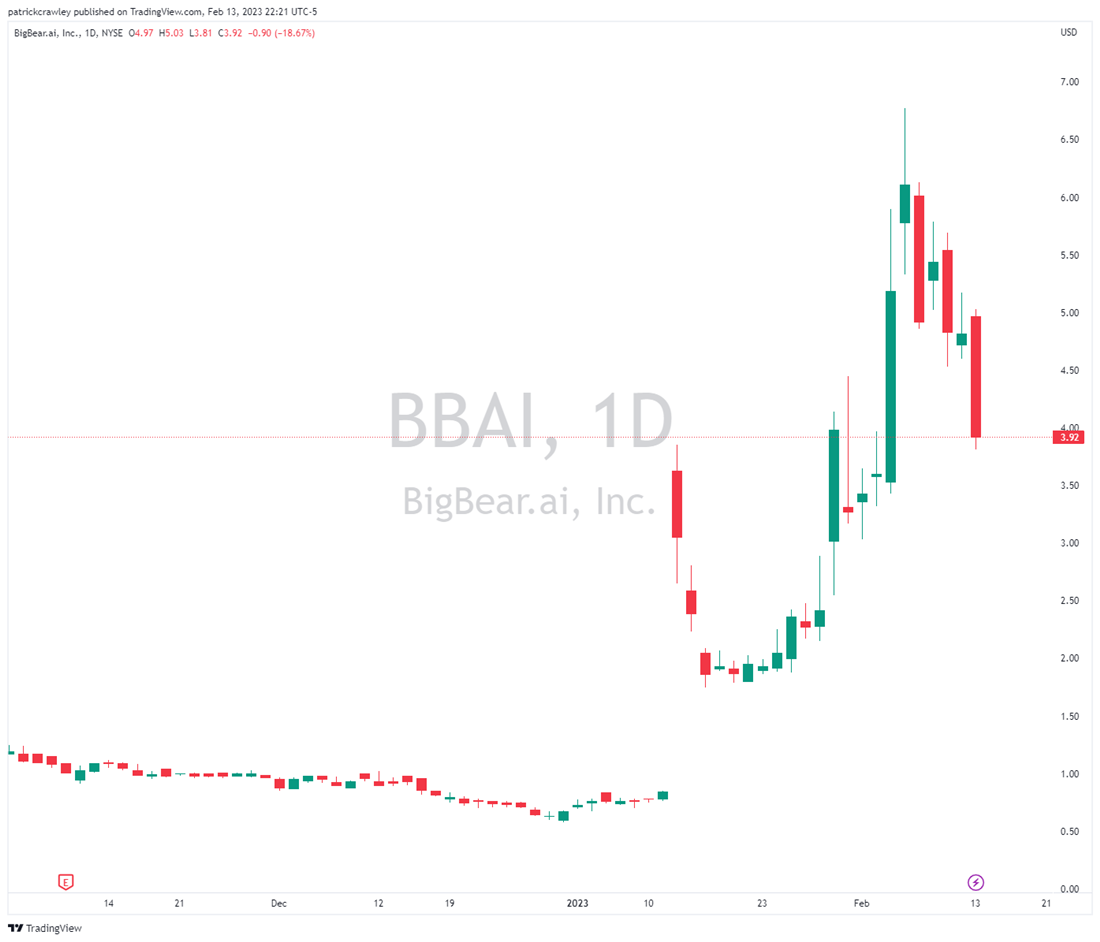 Bottom Line
The AI sector is among the hottest investment themes right now. AI will change the world in dramatic and unexpected ways. The market knows whichever companies at the forefront will be massive winner.
But investors should keep in mind that we're only in the first inning and maintain a healthy level of skepticism. Today's leaders might not necessarily be the leaders of the future, and further discoveries in the field can lead to fortunes changing wildly.
As such, traders seeking to play this AI stock rally should remember that even the most enticing investments don't go up in a straight line and be willing to accept heavy losses should things not work out.