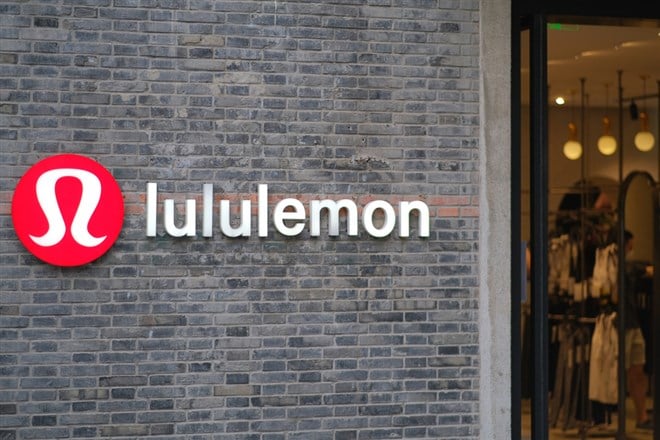 Athleisure apparel and footwear maker Lululemon Athletica Inc.  (NASDAQ: LULU) stock took a rapid (-10%) drop upon updating mixed guidance for its upcoming Q4 2022 earnings report on Jan. 9, 2023. While the Company raised its revenue guidance, it lowered it EPS guidance due to margin compression.
High inventory levels may have led to more promotions and discounts during the holiday shopping season as consumers were tighter with their wallets. Q3 2022 inventories rose 85% YoY has been a cause for concern heading into the holiday season. High inflation and waning consumer confidence led to consumers pulling back on discretionary items. Rising interest rates also make it more expensive to buy on credit.
Was the Writing on the Wall?
Retailers like Nordstrom Inc. (NYSE: JWN) gave a clue in December as to the weaker consumer demand for the 2022 holiday season. On Jan. 2, 2023, Macy's Inc. (NYSE: M) warned its holiday sales were weaker than expected and plans to close 70 stores and cut over 10,000 jobs. Kohl's Corporation (NYSE: KSS) also chimed in with a warning of lower holiday sales.
Other athletic footwear and apparel makers Nike Inc. (NYSE: NKE), Under Armor Inc. (NYSE: UAA) and Sketchers U.S.A Inc. (NYSE: SKX) shares were undeterred by Lululemon's warning as shares shrugged off market jitters rising up 7%, 11%, and 9% year-to-date, respectively. They seem to be helping pull up Lululemon shares as they recover over $315 from $289s on the announcement. The China re-opening may be a silver lining for Lululemon as its one of the reasons for Nike's stock strength.
Was Q3 2022 Earnings Reaction a Tip-Off?
On Dec. 8, 2022, Lululemon released its fiscal third-quarter 2022 results for the quarter that ended in October 2022. The Company reported a diluted earnings-per-share (EPS) profit of $2.00, beating consensus analyst estimates of $1.96 by $0.04. Revenues grew 28% year-over-year (YOY) to $1.86 billion, meeting analyst estimates for $1.81 billion. Total comparable sales rose 22% or 25% in constant currency (CC). Comparable store sales rose 14% or 17% in CC, and direct-to-consumer (DTC) revenues grew 31% or 34% CC. 
In-Line Guidance for Q4 2022
While normally raising guidance, Lululemon provided in-line guidance for fiscal Q4 2022 EPS of $4.20 to $4.30 versus $4.30 consensus analyst estimates on revenues of $2.605 billion to $2.655 billion versus $2.65 billion analyst estimates. The Company reiterated its Power of Three X 2 calls for doubling business from 2021 of $6.25 billion to $12.5 billion in 2026.
Power of Three x 2 Growth Plan
The Company has been administering its Power of Three x 2 strategy comprised of three pillars: product innovation, customer experience, and market expansion. This involved doubling the men's category, DTC, and 4X international revenues from 2021 levels. Lululemon CEO Calvin McDonald commented, "In the third quarter, we continued to deliver strong and balanced results across the business, demonstrating the significant potential for our brand."
He continued, "Our ongoing momentum is a testament to our innovative products, deep community relationships, and the hard work and dedication of our talented teams worldwide. We are pleased with our early holiday season performance and look forward to all that's ahead for lululemon as we continue to deliver on our Power of Three ×2 growth plan."  However, the market wasn't quite convinced as shares sold off (-13%) on the news.
Margin Compression in Weaker Holiday Season
On Jan. 9, 2023, Lululemon issued mixed guidance for Q4 2022. The Company cut the bottom line but rose from earlier estimates in Q3 2022. It lowered fiscal Q4 2022 EPS to be between $4.22 to $4.27 versus $4.30 consensus analyst estimates on raised revenues of $2.66 billion to $2.70 billion versus $2.67 billion analyst estimates.
It also expects gross margins to fall (-90 bps) to (-110 bps versus earlier expectations of a rise of 10 bps to 20 bps. Investors are concerned that the high inventory levels heading into the holiday shopping season resulted in increasing promotions and discounts to get merchandise out the door.
Breakdown Through the Rising Price Channel Lower Trend Line  
LULU stock has been in a weekly rising price channel since October 2022 after putting in a swing low at $277.70. Shares rallied upon trigging the weekly market structure low (MSL) breakout at $316.27. This propelled shares to a high of $386.70 before selling off on Q3 2022 earnings. The weekly stochastic peaked and fell through the 80-band on the sharp selling reaction to earnings. The weekly 20-period exponential moving average (EMA), once supported, has now become a resistance at $325.15 with a weekly 50-period MA at $319.04.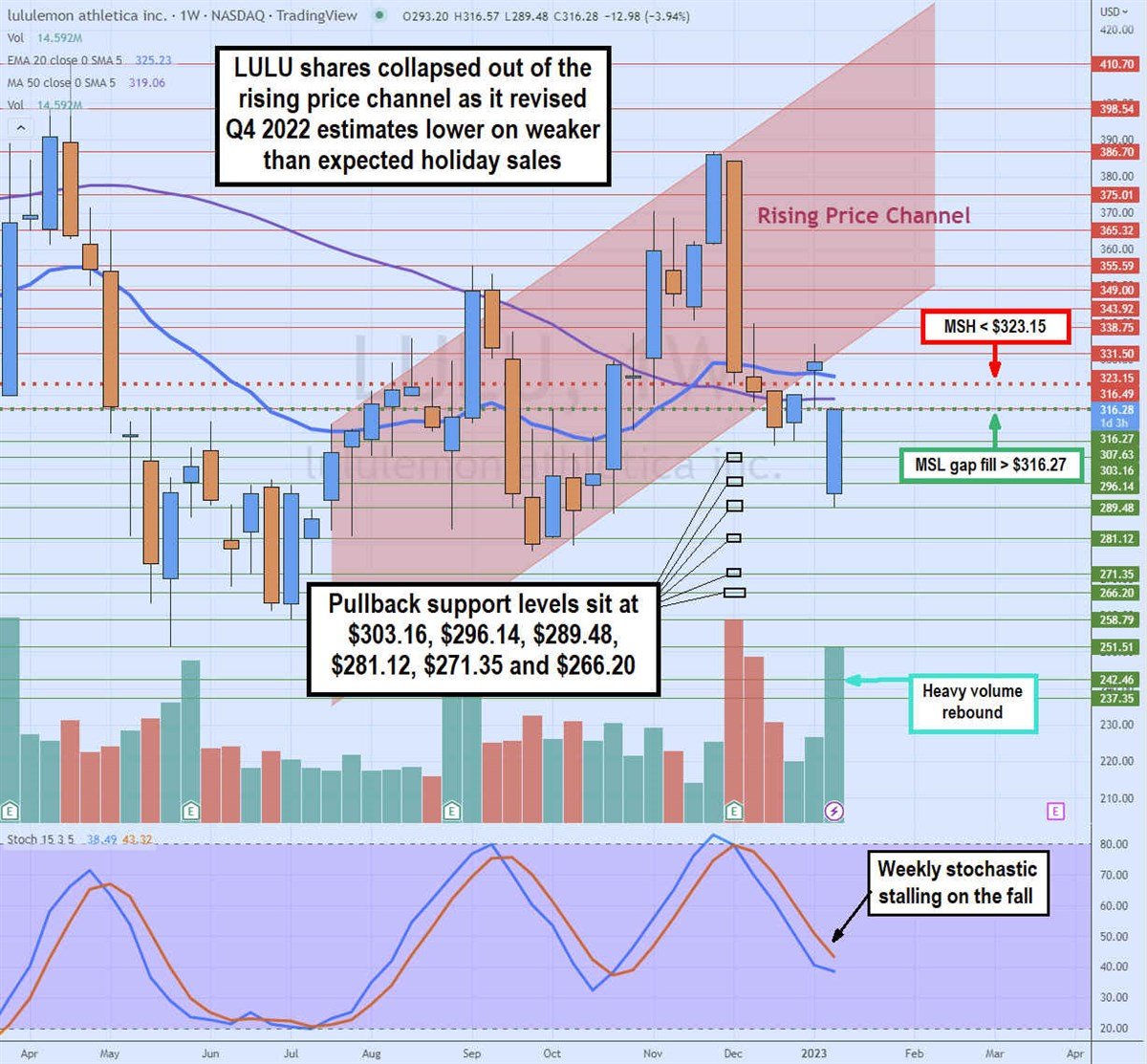 The 20-period EMA and 50-period MA formed a breakout, but the uptrend is losing steam as they both went flat ahead of the earnings report but collapsed to form a weekly market structure (MSH) high sell trigger on the $323.15 breakdown.
Shares fell out of the weekly rising price channel and failed its recovery bounce that peaked at $134.23 before falling back out of the price channel on the Q4 2023 lowered guidance released on Jan. 9, 2023.
The weekly stochastic fall stalled briefly but could continue back down unless LULU can breakout through the weekly 5-period MA at $325.14 and re-enter the weekly channel again. The weekly stochastic would also need to cross over the back up through the 50-band. Pullback supports on LULU sit at $303.16, $296.14, $289.48, $281.12, $271.35, and $266.20.