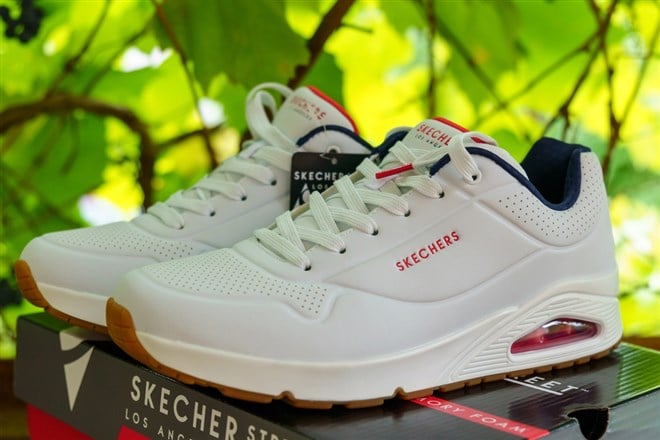 Skechers U.S.A., Inc. (NYSE: SKX) has come a long way since stepping into the sneaker scene three decades ago. Initially, a fringe challenger to Nike and other industry giants, Skechers has evolved into a globally recognized brand and a multi-billion dollar business. 
Its stock has been doing quite well too.
Over the last 10 years, Skechers has delivered a 21.6% annualized return. Compare this to industry leader Nike which has returned 17.5% annually. Of course, past performance is no guarantee of future results, but Skechers looks poised for another year of outperformance.
Skechers is forging solid connections with footwear and apparel enthusiasts by offering quality, affordable alternatives. The company has nearly 4,500 stores worldwide and an expanding wholesale footprint. 
What began as an upstart offering of rugged boots is now a "comfort technology company" catering to everyday consumers. On-trend innovations like Hands Free Slip-ins, Tony Romo-backed ArchFits and electrified S-Lights for kids make Skechers relevant to budget-minded families.
With more growth levers to pull, look for Skechers to hit its stride over the next couple of years.
How Did Skechers Perform in 2022?
Through the first three quarters of 2022, Skechers posted 19% revenue growth. However, earnings per share (EPS) were down -9% due to cost inflation, higher freight expenses, and increased spending on brand marketing. In addition, inefficiencies caused by ongoing supply chain disruption have also weighed on profits. 
In Q3, Skechers had record sales of $1.88 billion and 21% top-line growth. Yet weaker than expected EPS caused a selloff on October 25th, a day with the most trading volume all year. It also turned out to be an inflection point as the stock rallied 23% to bring good momentum to 2023. Skechers finished down 3% for the year, while Nike shares fell 30%. 
About a month from now, Skechers will announce Q4 results that could have a familiar theme. Although revenue growth is expected to be positive for the eighth consecutive quarter, the prevailing cost headwinds are expected to drive a 16% decline in profits.
Things start to look better from there. With cost pressures expected to ease, analysts are projecting 2%, 33% and 36% year-over-year EPS growth in the first few quarters of this year.
What is Skechers' Growth Strategy?
Skechers is well-positioned to benefit from direct-to-consumer (DTC) trends that the pandemic has accelerated. Led by newly public companies like FIGS, Stitch Fix and Warby Parker, brands across many categories are skipping the middleman and making online the featured storefront. Companies like Skechers that have an established brick and mortar presence are making DTC a key complementary growth engine. 
Skechers continues to pour money into its digital capabilities and physical and digital retail integration. This includes enhancements to its website, mobile app and customer loyalty program. In addition, new e-commerce sites have recently been launched in Japan, Poland and Switzerland, with more on the way. On top of initiatives around the in-store and curbside pickup, these efforts will make Skechers a true omnichannel brand — and more competitive with Nike, Under Armour and Adidas.
International expansion is also a significant part of the growth strategy. This will mainly be driven by fast-growing emerging markets like China and India and establishing a more substantial presence in Europe and other parts of Asia. 
In Q3, international sales jumped 25% year-over-year, showing particularly strongly in the EMEA region. However, sales outside of the Americas represented 50% of total sales — which comes with foreign currency risks and geographically diverse revenue.
The latest expansion market is Ireland. Just before Christmas, Skechers opened a flagship store in Dublin last month to expand its UK/Ireland footprint to 112 locations. This marked another step towards the company's goal of reaching $10 billion in sales by 2026.
Is Skechers Stock Undervalued?
Skechers shares are trading approximately 20% off their July 2021 record high of $55.87. The trailing P/E ratio is just 10x, a considerable discount to the textiles, apparel & luxury goods industry average of 26x. 
The stock is also attractive on a forward P/E basis. Based on the consensus earnings estimate for 2023, Skechers goes for around 15x despite analysts' forecast for 31% EPS growth. This multiple deserves to expand over time, significantly, as the discretionary spending environment improves.
Given the low valuation and growth prospects, it's not surprising that Wall Street is a fan of Skechers. Four of five firms have bullish ratings, and several see the stock crossing back into the $ 50s. 
A tech-driven focus on comfort, omnichannel growth, international expansion and a low P/E. All good reasons for value investors to feel comfortable stepping into Skechers stock.