The Ministry of Magic has just announced that using KLOAKr™ protects your Apple iMessages from being discovered by even the darkest spells. Members of Dumbledore's Army themselves are using the KLOAKr™ app in their efforts to thwart the Death Eaters. This is better than an invisibility cloak…everyone can have one!
(PRUnderground) February 23rd, 2021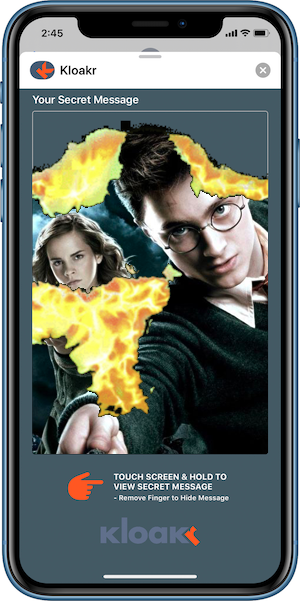 KLOAKr™ is free from the iPhone App Store app. You don't have to use a new messaging app and start a new contact list to use KLOAKr™. It works in your existing iPhone's iMessage app. Text, pics, and videos, once viewed by your trusted fellow wizards and witches, are deleted from your phone, their phone, and the cloud.
To use KLOAKr™, download from the App Store, and open the iMessage app on your Apple iPhone. KLOAKr™ appears at the bottom of your iMessage window with the other iMessage compatible apps. Use KLOAKr™ to send a secure iMessage to someone you trust. The wizard receiving the KLOAKr™ message presses their finger on the viewing display to see the message until they lift their finger from the display— the message then disappears like magic.
After lifting your finger, all traces of the message, picture, or video are unobtainable even by the most powerful spells of "He Who Shall Not Be Named" himself! All good witches and wizards must use every tool at their disposal to fight the dark forces. Learn your defensive magic spells, be ready to cast Expelliarmus, Expecto Patronum, and Obliviate when need be, but the best defense is keeping your secrets safe with KLOAKr™!
About KLOAKr™
KLOAKr™ is secure in the entire creation-transport-viewing process distributed for Apple devices on the Apple App Store. Your text, photo, or video is secured using AES 256 encryption. The original is destroyed, and only the encrypted message is sent. Only after two-level biometric decryption (face and finger authentication) by the recipient is the message revealed. The message vanishes from the universe after transmission and receipt — no digital 'bread crumbs' linger.
About Kloakr Inc.
Kloakr is a texting cloaking app that runs inside of Apple Messages.
Your texts, photos, and videos are biometrically encrypted by the sender.
After sending the messages are permanently destroyed on the sender's iPhone.
Upon receipt, the messages are biometrically decrypted and only displayed while the receiver holds their finger down on the screen.
Upon the release of the user's finger from the screen, the message disappears and is completely destroyed on the receiving iPhone.
No trace exists of the originating or receiving message on the iPhones involved or on the internet.
The post Harry Potter Fans - Your Personal KLOAK of Invisibility Is Now Available! first appeared on PRUnderground.
Press Contact
Name: Dan Acquafredda

Phone: 7325005511

Email: Contact Us

Website: https://www.kloakr.com
Original Press Release.