Finding a quality, affordable ankle support and relief product can be extremely valuable for a person suffering from an injury or ongoing pain. The CopperJoint Ankle Compression Sleeve is winning praise on Amazon.com for exceeding shopper expectations.
(PRUnderground) October 12th, 2020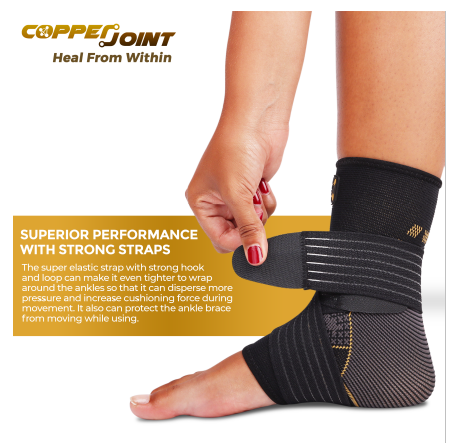 Experts broadly agree, compression is a proven and reliable way to address a wide range of pain and injury issues. It can also accelerate the healing process. When it comes to ankle issues, an area that is traditionally difficult to work around or rehab, quality compression as a treatment method has been even more valuable. The good news is getting a first-class ankle compression product doesn't have to be expensive or difficult to shop for. Leading company in the space, CopperJoint recently announced the launch of its new CopperJoint Ankle Compression Sleeve on Amazon.com, The product is made of premium quality material infused with copper (which many holistic practitioners believe can accelerate healing), is completely adjustable, reusable, can be worn by either sex, and is set at a very affordable price. It has become a quick favorite with Amazon shoppers.
"We understand the importance of an active lifestyle and our Ankle Compression Sleeve can help a person become more active again, which is wildly important," commented "It is a perfect choice to address ankle issues for people of all ages and fitness levels. The design is aimed at enhancing performance, speeding up recovery, and providing real relief from injury, inflammation, and arthritis. From elite athlete, to weekend warriors, or simply active parents or grandparents, our CopperJoint Ankle Compression Sleeve is a great choice."
The product is available in four sizes and is backed by a full satisfaction guarantee for risk-free shopping.
Early reviews have endorsed the Ankle Compression Sleeve.
Evette R., remarked in a five-star Amazon review, "Ever since busting my left ankle dancing ballet in high school, it's been weaker than I'd like so I thought I'd get something to stabilize it when working out. This ankle support brace provides excellent support and protection. Plus it fits in my running shoe and it's super comfortable. I can even wear this while not working out too."
For more information or to order be sure to visit https://www.amazon.com/CopperJoint-Ankle-Support-Compression-Adjustable/dp/B085RW9KXH.
About CopperJoint
At CopperJoint, we provide drug-free, pain-relief solutions by creating premium copper-infused garments and supports. Our goal is to improve the quality of life for people suffering from joint and muscle pain due to accidents, arthritis, age, or injury. We are committed to use only the highest copper content and make copper compression therapy affordable for everyone.
The post CopperJoint Ankle Compression Sleeve Proves Popular Among Amazon Shoppers first appeared on PRUnderground.
Press Contact
Name: Stefano Starkel, Founder

Phone: 302-604-6421

Email: Contact Us

Website: https://www.copperjoint.com
Original Press Release.