Getting a premium quality compression Ankle Brace for Women is now simple thanks to CopperJoint. For a limited time only it is also available at a launch discount on Amazon.com and at the CopperJoint online store.
(PRUnderground) September 28th, 2020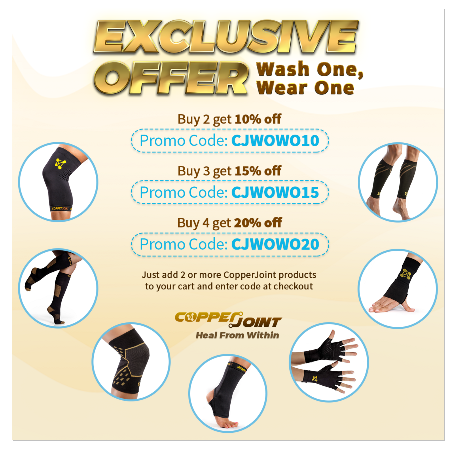 Ankle injuries and pain are quite common among women. This makes the need for a chemical and drug-free way to help manage these issues a vital one, in high demand. Stepping up to help is breakthrough experts in sports and accident injury accessories company CopperJoint. CopperJoint recently announced the launch of its new ankle brace for women, celebrating with a special discount for a limited time only. The promotion offers customers the opportunity to purchase a pair and get 10% off the price with code CJWOWO10 on checkout at Amazon.com. This is great both for those who need a pair or to have one that can be washed while the other is worn for better hygiene, while staying protected.
"It's our pleasure to offer a special promotion to celebrate our launch," remarked a spokesperson from the company. "This is an amazing choice for those who need ankle compression, support, stability, or relief from pain. Physical therapists are very enthusiastic about our ankle brace for women. And let's not forget it is appropriate for men also when the correct size is ordered."
According to CopperJoint, the CopperJoint Ankle Support – Ankle Compression Brace is made of a high-quality fabric that is infused with pure copper ions using a patent pending method. The compression feature delivers extreme benefits for most users. The copper is also believed to hold anti-microbial and healing properties in the opinion of many holistic health and wellness experts.
Reviews for the ankle brace definitely endorse its effectiveness.
O.M., recently said in a five-star review, "Even since I began riding an electric scooter on an almost daily basis, I began to experience some foot soreness, especially on the middle-bottom portion of my left foot and around the ankle area. Because my e-scooter only has relatively small 8″ wheels (one pneumatic and one solid), my body experiences the bumps and roughness of the road more strongly despite having a triple front suspension and dual rear suspension. With the CopperJoint ankle support on, my foot feels much better afterward. There's much less soreness and recovery occur faster. I like that the fabric is thin enough to wear over my socks and still have enough leeway to easily slip inside my shoes. The fitment is so natural and comfortable that I forget that I'm wearing a compression brace during exercise."
For more information or to order be sure to visit https://www.amazon.com/CopperJoint-Ankle-Support-Compression-Adjustable/dp/B085RWGR42.
FDA Disclaimer: The statements made in this press release have not been evaluated by the U.S. Food and Drug Administration. These statements and the products of this company are not intended to diagnose, treat, cure or prevent any disease.
About CopperJoint
At CopperJoint, we provide drug-free, pain-relief solutions by creating premium copper-infused garments and supports. Our goal is to improve the quality of life for people suffering from joint and muscle pain due to accidents, arthritis, age, or injury. We are committed to use only the highest copper content and make copper compression therapy affordable for everyone.
The post CopperJoint Offers Launch Discount on New Ankle Brace for Women first appeared on PRUnderground.
Press Contact
Name: Stefano Starkel, Founder

Phone: 302-604-6421

Email: Contact Us

Website: https://www.copperjoint.com
Original Press Release.