Ankle injuries are quite common and can be difficult to manage. The new CopperJoint compression Ankle Brace With Adjustable Straps can help, often dramatically.
(PRUnderground) September 24th, 2020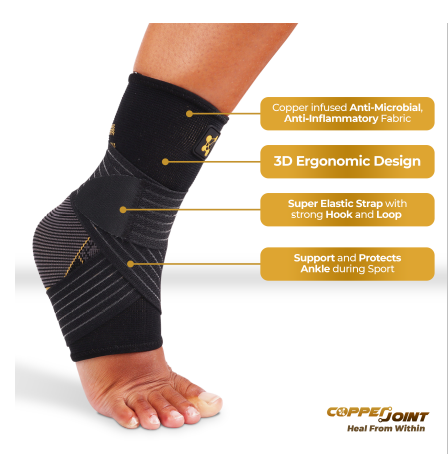 Normal lifestyle activities and especially playing or exercising can lead to ankle injuries or nagging ankle pain. Mainstream authorities agree, a proven way to address these kinds of concerns is compression therapy. In exciting news for those struggling with ankle pain, breakthrough compression accessory company Wyoming-based CopperJoint recently celebrated the release of its latest product the CopperJoint Ankle Brace With Adjustable Straps. The new ankle brace not only incorporates first-class compression therapy in its premium quality design, but also a patented, unique material infused with copper. Many believe copper ions have the ability to accelerate healing.
"We are already offering solutions that target the ankle (like our light compression ankle sleeve) but this will be the first highly supportive copper-infused compression product for the ankle," commented Stefano Starkel, Founder of CopperJoint. "Our ankle brace is a product that our customers have requested consistently. We believe this is something that can really enhance a person's lifestyle possibilities when they are suffering from ankle pain. And even see their recovery time speed up, which is amazing."
According to CopperJoint, the ankle brace is available in four sizes, which when combined with its adjustable straps act to provide an optimal fit and support. The thoughtful design makes all day wear comfortable. Uniquely, the fabric of the ankle brace is bonded with copper ions at a molecular level to ensure they stay put for the life of the garment. The premium real copper used is known for its anti-odor and anti-microbial properties. The idea that copper infusion helps promote Angiogenesis, or the creation of new blood vessels and the rejuvenation of skin, with both helping speed recovery is something supported by many holistic thinkers and wellness experts.
An eye-opening video exploring CopperJoint can be seen here.
The early feedback for the new CopperJoint Ankle Brace has been very positive across the board.
Evette R., recently said in a five-star review, "Ever since busting my left ankle dancing ballet in high school, it's been weaker than I'd like so I thought I'd get something to stabilize it when working out. This ankle support brace provides excellent support and protection. Plus, it fits in my running shoe and it's super comfortable. I can even wear this while not working out too."
To learn more about the Ankle Brace or to order be sure to visit https://www.amazon.com/CopperJoint-Ankle-Support-Compression-Adjustable/dp/B085RVYCTF.
FDA Disclaimer: The statements made in this press release have not been evaluated by the U.S. Food and Drug Administration. These statements and the products of this company are not intended to diagnose, treat, cure or prevent any disease.
About CopperJoint
At CopperJoint, we provide drug-free, pain-relief solutions by creating premium copper-infused garments and supports. Our goal is to improve the quality of life for people suffering from joint and muscle pain due to accidents, arthritis, age, or injury. We are committed to use only the highest copper content and make copper compression therapy affordable for everyone.
The post CopperJoint Releases new Ankle Brace With Adjustable Straps first appeared on PRUnderground.
Press Contact
Name: Stefano Starkel, Founder

Phone: 302-604-6421

Email: Contact Us

Website: https://www.copperjoint.com
Original Press Release.