Yield Mining projects and the Decentralized finance market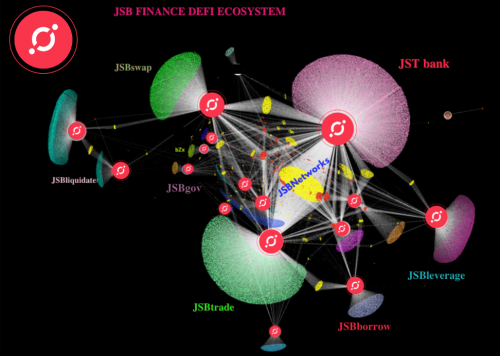 September 9, 2020 —
Decentralized Finance (DeFi) is the merger of traditional bank services with decentralized technologies such as blockchain. DeFi can also go under the name Open Finance due to its inclusive format. Importantly, the DeFi community seeks to create alternatives to every financial service currently available. These services include items such as savings and checking accounts, loans, asset trading, insurance, and much more. There is no doubt that Defi will be an inevitable technology trend in the next 10 years.
Among projects in the Defi trend, JSB Finance appears as a project full of potential and promise. JSB Finance is a TRON-based protocol ecosystem that aims to simplify user interaction with popular Defi protocols and maximize the money's real annual rate return (APY) of cryptocurrencies that were sent into Defi.
The most popular protocol in this ecosystem is JST Bank, which automatically moves users' money between Defi lending protocols like JUST, Zethyr Finance, and Bank in Trx to maximize APY. The entire JSB finance ecosystem is developed by the community and managed by the community through the JSB token.
JSB finance was created by a single developer, Michael Elder. JST Bank provides a decentralized foundation for yield farming opportunities. By combining different platforms, it helps users to optimize their yield farming results. When users deposit tokens into the platform, they are converted into JSB tokens.
JSB Finance owns a strong ecosystem. In addition to the popular protocol of the ecosystem, JST Bank, the remaining protocols include:
- JSBtrade: Allows you to trade with limited leverage of 1000 times with a start fee upfront or 250 times without an activation fee. JSBtrade allows trading between USDT, USDJ, TRX, JST
- JSBliquidate: Use instant loans to liquidate your money
- JSBswap: JSBswap Exchange provides stable AMM (automated market maker), allowing one-sided liquidity provision.
- JSBleverage: Create the X5 leverage between stable coins
- JSBborrow: Credit vault for lending through smart contracts
- JSBnetworks: is a key component in the JSB Finance ecosystem. JSBnetworks helps maintain information and interactions between platforms within the ecosystem as well as interacts and connects with other Defi ecosystems to form a whole sustainable ecosystem.
Finally, extremely important, JSB Finance has also provided a "Staking dashboard" to help users easily staking and cancel their positions on any of JSB Finance's liquidity pools. It's called JSBgov
JSB Finance owns an excellent technology platform with advantages from Tron's blockchain system (Tron network, Tron Link, Just Defi, Just swap, Telegram) In which, two of the most advanced technologies available today include :
-TronLink: is the TRON wallet with the most users. Main functions: Send and receive TRX, TRC10 and TRC20 tokens; Integrate smart contract calls on developer's website; Use Dapps in the browser.
- JustSwap: a decentralized protocol , as part of TRON's initiative to become more involved in the DeFi space.
The operation of JSB Finance is considered to be more accessible than other Defi projects. It works by moving stable coin funds between different projects. The movement of these stable coins depends on the stable coin that is generating the highest APY. Whenever a user initially sends a stable coin to JSB finance, it is automatically converted into a similar amount of tokens. This can be used to earn JSB tokens.
About JSB Token:
JSB is a Native Token of JSB Finance used to manage protocols in the JSB Finance ecosystem. Below is the basic information about the JSB Token:
-Ticker: JSB
-Blockchain: TRON
-Token type: Native Token
-Token Standard: TRC-20
-Total supply: 100,000,000 JSB
-Circulating Supply: 99,500,000 JSB
JSB has released 100,000,000 tokens which are evenly distributed to platform users and liquidity providers. JSB token holders have the right to vote on upcoming governance decisions over the network - such as the possibility of stopping the distribution of brand new tokens.
Is JSB Finance a trustworthy decentralized financial system? It can be said that JSB Finance is the most transparent financial system in the world:
-JSB Finance is not an organization - because it doesn't have any leader getting all the benefits for himself.
-JSB Finance is not a company - because it doesn't have any boss or owner
-JSB Finance is an ecosystem of platforms based on Blockchain technology and smart contracts. All transactions in the system are automatic, balanced and calculated based on automatic algorithms and smart contracts. So this is a very reliable financial system.
Below are 3 reasons why you should choose JSB Finance.
-Transparency: All transactions in the system are clear, transparent, and free from interference by anyone, even the system creators, because the whole system is managed by Blockchain and Smart contract technology, the most transparent financial system in the world.
-Fairness: JSB Finance is run with an automated algorithm that's fair for everyone, with no exceptions. Penalties, blocked or frozen accounts do not apply. All members have the same rights and obligations and are bound by Smart-contract, in which they cannot cheat or evade.
-No permission needed: JSB Finance provides a decentralized platform based on Blockchain technology and Smart-contract, allowing millions of people to participate on duty without any intermediaries. JSB Finance respects the principle of waiting time in circulation while the system plays the role of calculating and balancing cash flows.
Visit these websites below for more information:
- JSB platform website: https://jsbfinance.com
- JST Bank: banking Defi ecosystem: https://jstbank.com/
- Marketing system: https://jsbnetworks.com
- Community: https://t.me/jsbdefi
Contact Info:
Name: Ali Raza
Email: Send Email
Organization: JSB Finance
Website: https://jsbfinance.com
Release ID: 88976093