Leaves Door Open for Similar Results for Other Alabama Homeowners
MOBILE, Ala. - August 10, 2020 - (
Newswire.com
)
The American Arbitration Association just delivered the latest arbitral award from an Alabama fraud trial against Terminix held in Daphne in June. Unfortunately for Terminix, but great for Alabama homeowners, the $3,800,000.00+ price tag includes $2 million in punitive damages to punish the company, and aspects of this case promise even more trouble in Alabama heading toward the pest control giant.
The case, tried by Campbell Law PC, proved that Terminix had NEVER treated properties with the liquid barrier that were part of their "Dual Defend" or "Dual Barrier" contracts. NEVER – even after state regulators ordered Terminix to do so. Also, Terminix's entomology expert admitted that the half of the treatment that Terminix did provide (a baiting system) was a less effective means of termite protection.
The ruling has far-reaching implications:
Because this was found to be a systemic and repeated fraud by Terminix, the company cannot re-litigate this fact in future cases, making future trials easier.
Fraud nullifies any contractual limitations on tort remedies, so thousands of Alabama homeowners who have termite damage Terminix's Dual control contracts can recover for their own property damage, mental anguish, consequential damages and punitive damages with fraud already established.
Large punitive damage awards are not taken lightly by judges and arbitrators in AL. In this case, the arbitrator said such a penalty was "necessary based upon the significant evidence presented at the hearing showing a systematic and repeated pattern by Terminix of failing to comply with its contractual and regulatory duties."
Campbell, nicknamed "Termite Tom" after decades of litigating against Terminix, explained that the decision by Terminix's general counsel and execs to "thumb their noses at state regulators sealed its fate."
Campbell Law PC maintains offices in Mobile and Birmingham, Alabama, and routinely represents homeowners and businesses that have termite damage because their termite companies failed to provide the termite prevention and inspection services correctly. They work to help nationwide.
Tom Campbell and Chris Cochran are also available for in-person or remote interviews: 205-278-6650.
###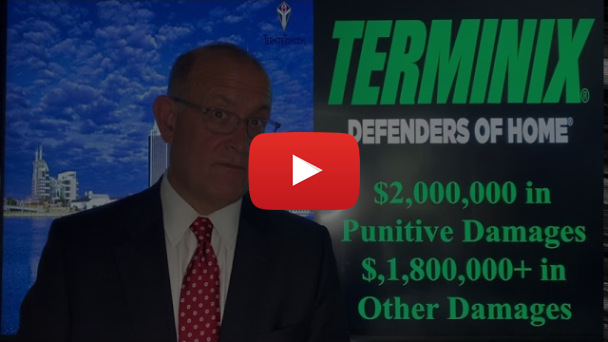 Press Release Service by
Newswire.com
Original Source:
Terminix Hit With $2 Million Punitive Damages in Alabama Trial