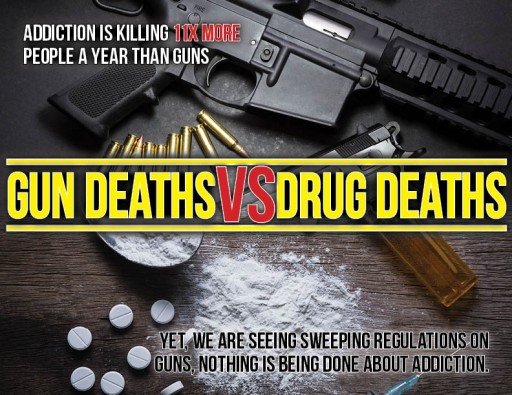 FORT COLLINS, Colo. - March 6, 2018 - (
Newswire.com
)
Addiction marketing company The Drug Rehab Agency posted a blog to its website discussing the tragic deaths on Feb. 14 in Florida and the nationwide discussion happening on gun reform. 
In the blog titled "Guns Vs. Drugs: What is the real killer of Americans?" The Drug Rehab Agency discusses the statistics on gun violence vs. addiction deaths in the United States. CEO Marcus Hansen wrote:
"We are looking at, within weeks of a horrible tragedy, better regulation and sweeping gun laws, changes by companies (Dick's Sporting Goods will no longer sell 'assault style firearms' and some retailers are raising the minimum age to purchase), even the President of the United States, Donald Trump, is fighting FOR banning 'bump-stocks.' You have seen this country do a 180 when it comes to firearms, and right fully so.  
"So, why have we not seen this kind of movement from them with drug addiction? Below are the statistics, compared to one another."
In the blog, Mr. Hansen's data shows an addiction death rate of over 11 times that of guns (of all kinds). 
"I just couldn't stay out of it anymore. It is great to see the country, and both parties, start to discuss change, and what it would mean. The debates are heated, as they should be, and people are DEMANDING change from our government. Yet, when heroin alone has killed more people each year than guns, I get angry. People are dying, everyday. Sons and daughters are in horrible situations and yet we have no money, as a country, to help them. I just had to say something," Mr. Hansen said when asked about why he wrote the blog. 
"I am hoping that the blog helps people think of what is happening and enact change. There are solutions, which are discussed in the blog, yet we stand idle." 
The Drug Rehab Agency is an addiction marketing agency out of Colorado that performs marketing services for those in the addiction treatment space. 
Press Release Service by
Newswire.com
Original Source:
Addiction Marketing Agency Calls Out Media and Country for Lack of Attention to Addiction