DJIA Today, Aug. 22, 2014: U.S. stocks were mixed on Friday as U.S. Federal Reserve Chairwoman Janet Yellen's speech in Jackson Hole, Wyo., failed to beat back renewed geopolitical concerns in eastern Ukraine. This morning, NATO announced that Russia was building up a strong troop presence on the eastern border of Ukraine, while another convoy entered the country, stirring the hornets' nest that has dampened investor sentiment for several months.
Dow Jones Industrial Average

N/A: DJIA

Aug 22

loading chart...

Price: 17,001.22 | Ch: -38.27 (-0.2%)
In Jackson Hole, Yellen flashed a more hawkish tone than usual in her comments today, stating that the Fed should begin to discuss when it should raise interest rates. Yellen said the economy is moving closer to the central bank's goals of stabilizing inflation and producing full employment.
Here's the scorecard from today's trading session:
Dow: 17,001.22, -38.27 (-0.22%)                  
Nasdaq: 4,538.55, +6.45 (+0.14%)   
S&P 500: 1,988.41, -3.96 (-20.0%)   
Now, here are the top stories from the stock market today: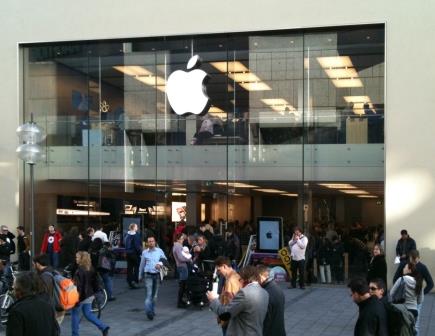 Now our experts share some of the most important investment moves to make based on today's market trading - for Money Morning Members only:
The Apple-IBM Deal Has One Clear Winner: You:

Apple Inc. vs. International Business Machines Corp. was one of the bitterest tech rivalries of the past 30 years. But now, the two are joining forces in a bold new pact. It's a good deal for both companies... And today Defense & Tech Specialist Michael A. Robinson reveals which stock will end up as the better buy - and make it a great deal for you...

Profit from the World's Largest E-Commerce Market:

Mainland China has leapfrogged the United States to become the biggest e-commerce market on Earth. We wanted you to hear about some of the best new opportunities - so you can reap the biggest payoffs...

This Northern Metals Boom Will Give Us More Than 10 Times the Returns of the S&P 500:

In the last three years, junior miners have, as a group, lost about 58%, while the S&P 500 is up 52%. But it's looking increasingly like we're entering a brand new boom phase, with junior gold miners up as much as 45.8% this year - with a lot more in store... Here are two to consider...
Tags:
AAPL
,
AAPL Stock
,
DJIA
,
djia today
,
dow
,
Dow Jones
,
Dow Jones Industrial Average
,
dow jones today
,
dow today
,
DYN
,
DYN stock
,
GMCR
,
GMCR stock
,
Stock market close
,
stock market news
The post DJIA Today Dips 38 Points; AAPL, GMCR, DYN Among Day's Gainers appeared first on Money Morning - Only the News You Can Profit From.