Bad NFL Call: A $1 Billion Mistake?
September 25, 2012 at 12:29 PM EDT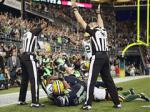 On the final play of Monday night's NFL game, a controversial touchdown call changed the game's outcome. Some sources say it was a $150-300 million dollar swing. Various Las Vegas sources told CNBC, it was much more than that.