For NFL, Does a Blown Call by Referees Really Matter?
September 25, 2012 at 10:47 AM EDT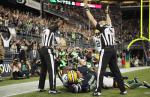 On the final play of Monday night's game between the Seattle Seahawks and the Green Bay Packers, a Seahawks pass was called a touchdown when it appeared Green Bay had actually intercepted the ball. But does a "blown call" really matter?