Founders of Tibbott & Richardson were recently featured in Forbes, Fortune, & Entrepreneur as Women Business Leaders of Pittsburgh, showcasing their skills and achievements.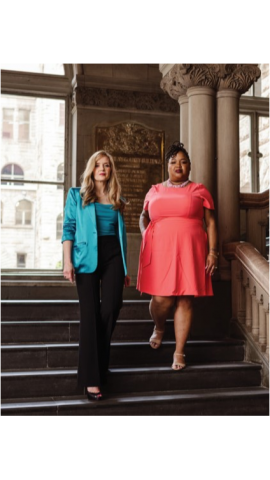 Pittsburgh, United States - September 30, 2023 —
Beth Tibbott and Dana Richardson, founders of the award-winning law firm Tibbott & Richardson, receive recognition as Women Business Leaders. The distinguished divorce lawyers in Pittsburgh are featured in As Seen In Forbes, Fortune, and Entrepreneur, showing their stories of resilience, compassion, and unwavering commitment to helping clients overcome the most challenging family law issues.
Tibbott & Richardson has cultivated a reputation for tackling cases others may shy away from due to their complexity.
Beth Tibbott remarks, "We handle cases other attorneys avoid because they involve difficult circumstances. We appreciate the challenge. We celebrate helping clients find empowerment by taking control of their futures."
This committed approach has made them pioneers in family law, particularly in intricate cases involving high-value assets and high-stakes custody battles.
With their headquarters in Pittsburgh, Tibbott & Richardson has become a trusted partner for clients facing formidable family law challenges. Their unique emphasis on communication and client care has set them apart in the legal landscape.
Clients often turn to Tibbott & Richardson for freedom and peace. Dana Richardson affirms their commitment to delivering these outcomes. "Clients come to us seeking help to achieve freedom and peace," Richardson explains. "We help them get it."
Dana Richardson is renowned for her sharp litigation skills and unwavering client advocacy. She is crucial in educating the firm's legal team on strategies to help families. "What inspires me is helping clients find their peace," she says. "Growing up, I faced many difficult family situations, but I created my path to joy and peace. Now, I help others achieve the same."
Tibbott & Richardson is a law firm based in Pittsburgh, PA. They understand how difficult it can be to deal with numerous legal issues. The firm's family law attorneys know what clients go through and always aim to provide the assistance they need.
The team helps individuals facing family law-related matters such as divorce, child custody, and spousal support. With their values of integrity, effectiveness, kindness, and communication, they protect their clients' rights and interests.
Visit Tibbott & Richardson at 1040 Fifth Avenue, Fourth Floor, Pittsburgh, PA 15219, or call them at (412) 444-7171.
Contact Info:
Name: Beth Tibbott
Email: Send Email
Organization: Tibbott & Richardson
Address: 1040 Fifth Avenue, Fourth Floor, Pittsburgh, PA 15219, United States
Website: https://www.tibbottrichardson.com/

Source: PressCable
Release ID: 89108970
If there are any deficiencies, discrepancies, or concerns regarding the information presented in this press release, we kindly request that you promptly inform us by contacting error@releasecontact.com. Our dedicated team is committed to addressing any identified issues within 8 hours to guarantee the delivery of accurate and reliable content to our esteemed readers.