AUSRaumer's team of experienced cleaning professionals cleans apartments, houses, and even offices daily. This crucial service provides people in Vienna with the skilled work to empty a building and clear out any items that need disposal.
Austria - September 30, 2023 —
When vacating an office building, moving to a new home, or dealing with the tricky situation of an apartment eviction, large quantities of items always need to be removed and disposed of. For the landlord or new homeowner, this can be an impossible task. The remaining items might be bulky, heavy, and hard to remove. There are costs involved with removing and disposing of these items, and it may be emotionally taxing to work through the home of someone who has recently passed away.  
AUSRaumer, Entrumpelung-Wien, is familiar with all of these challenges. This Vienna-based company has been in the household clearance industry for years, and the team is well-versed in everything from apartment evictions to basement clearance.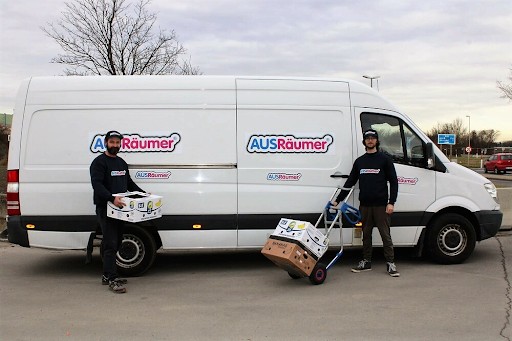 What sets AUSRaumer apart from other Household Clearance Businesses 
AUSRaumer begins with a free viewing. They visit the site they will be clearing out to evaluate the extent of the work without charging for time, labor, or even travel. This complimentary visit gives the team an idea of how long it will take and what will be involved in the clearance.  
The second significant difference is the years of experience the team members have. Their extensive experience has brought with it discretion and reliability. Customers can rest assured that the utmost respect and confidentiality will be used when completing a clearance.  
AUSRaumer is conscious of every aspect of the job. This means special attention is given to being environmentally friendly. Disposing of large quantities of waste items can cause harm to the environment if not done correctly. AUSRaumer completes careful sorting of each item to ensure it ends up in the right spot. This includes everything from wood and building rubble to bulky waste. Things that shouldn't be disposed of are recycled and even donated. 
During this sorting process, AUSRaumer takes it further by deducting the sales value of those non-waste items they'll be donating from the total cost. This can make the clearance significantly cheaper as they do everything they can to provide a fair and affordable price.  
Finally, AUSRaumer provides its clients with complete peace of mind through extensive insurance. Should anything be damaged during the clearance, AUSRaumer will take care of it.  
The Services offered by AUSRaumer 
AUSRaumer is known first and foremost for its house clearance. Property managers, landlords, companies, and even private individuals might need a clearance for the house they own. Regardless of the client, AUSRaumer provides a fixed rate price without any hidden costs and, of course, the free initial viewing to determine the extent of the job.  
Apartment eviction can be complicated for a landlord to handle without the added stress of clearing out everything the tenant left behind. These situations can often leave behind an enormous mess and many discarded items, but AUSRaumer is highly experienced in apartment evictions and can handle any challenge it might bring.  
Messie clearance is what AUSRaumer specializes in. This is the households in which years, if not decades, of mess, has built up and accumulated, combined with the potential for mold, pet feces, and even food waste that has been left for months. There is nothing this team hasn't seen, and they are discreet in ensuring no neighbors find out what is going on.  
Office and business liquidation happens when the former tenant or occupant of the office leaves and not all of their waste leaves with them. It could be a doctor's office, a hotel, a corporate office, or even a warehouse. AUSRaumer has handled all of these and more.  
AUSRaumer will even handle estate clearances, buying out antiques and valuable items. Because of the nature of estate clearances, AUSRaumer is almost always able to provide this service for free through the value of the remaining items.  
AUSRaumer even handles basement clearances. This often-forgotten part of a home can fill up quickly with boxes and boxes of things that are no longer being used. AUSRaumer can clear this out, providing a much clearer space.  
Conclusion 
AUSRaumer has combined decades of experience with a caring approach to homeowners, landlords, businesses, and more in Vienna. The attention to detail and unique price breaks through the sales value of usable items have set them apart from numerous other clearance options.  

Contact Info:
Name: AUSRaumer
Email: Send Email
Organization: AUSRaumer
Website: https://www.ausraeumer.at/

Release ID: 89108638
If you encounter any issues, discrepancies, or concerns regarding the content provided in this press release, or if there is a need for a press release takedown, we urge you to notify us without delay at error@releasecontact.com. Our expert team will be available to promptly respond within 8 hours – ensuring swift resolution of identified issues or offering guidance on removal procedures. Delivering accurate and reliable information is fundamental to our mission.